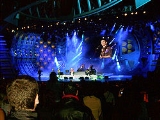 Viña del Mar International Song Festival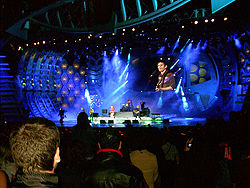 The
Viña del Mar International Song Festival
is a
music festival
Music festival
A music festival is a festival oriented towards music that is sometimes presented with a theme such as musical genre, nationality or locality of musicians, or holiday. They are commonly held outdoors, and are often inclusive of other attractions such as food and merchandise vending machines,...
held annually during February since 1960 in
Viña del Mar
Viña del Mar
Viña del Mar , is a city and commune on central Chile's Pacific coast. Its long stretches of white sandy beaches are a major attraction for national and international tourists. The city is Chile's main tourist attraction. Known as "La Ciudad Jardín" , Viña del Mar is a Chilean Municipality located...
,
Chile
Chile
Chile ,officially the Republic of Chile , is a country in South America occupying a long, narrow coastal strip between the Andes mountains to the east and the Pacific Ocean to the west. It borders Peru to the north, Bolivia to the northeast, Argentina to the east, and the Drake Passage in the far...
. It is considered the most important musical event in
Latin America
Latin America
Latin America is a region of the Americas where Romance languages – particularly Spanish and Portuguese, and variably French – are primarily spoken. Latin America has an area of approximately 21,069,500 km² , almost 3.9% of the Earth's surface or 14.1% of its land surface area...
.
The Festival features a song competition on two categories (
pop music
Pop music
Pop music is usually understood to be commercially recorded music, often oriented toward a youth market, usually consisting of relatively short, simple songs utilizing technological innovations to produce new variations on existing themes.- Definitions :David Hatch and Stephen Millward define pop...
song and folk song), interspersed with performances by international music stars from around the world, encompassing such diverse genres as
rock
Rock music
Rock music is a genre of popular music that developed during and after the 1960s, particularly in the United Kingdom and the United States. It has its roots in 1940s and 1950s rock and roll, itself heavily influenced by rhythm and blues and country music...
, pop music in various languages,
merengue
Merengue music
Merengue is a type of music and dance from the Dominican Republic. It is popular in the Dominican Republic and all over Latin America. Its name is Spanish, taken from the name of the meringue, a dessert made from whipped egg whites and sugar...
,
salsa
Salsa music
Salsa music is a genre of music, generally defined as a modern style of playing Cuban Son, Son Montuno, and Guaracha with touches from other genres of music...
,
reggaetón
Reggaeton
Reggaeton is a form of Puerto Rican and Latin American urban and Caribbean music. After its mainstream exposure in 2004, it spread to North American, European and Asian audiences. Reggaeton originated in Puerto Rico but is also has roots from Reggae en Español from Panama and Puerto Rico and...
and others. The event takes place in the
Quinta Vergara Amphitheater
Quinta Vergara Amphitheater
The Quinta Vergara Amphitheater is an open-air amphitheater within the Parque Quinta Vergara located in Viña del Mar, Chile. The amphitheater is the site of the Viña del Mar International Song Festival held yearly in February...
, and has been broadcast for Chilean television over the years by TVN,
Canal 13
Canal 13 (Chile)
Canal 13 , is the second oldest television station in Chile. It is owned by Luksic Group associated with the Papal Catholic University of Chile. Its inaugural transmission took place on August 21, 1959...
,
Megavisión
MegaVision
MegaVision is an American company that manufactures high-end digital photographic equipment. It was founded in 1983 to create a state-of-the-art image processing computer...
or
Chilevisión
Chilevisión
CHV, also known as Chilevisión, is the third oldest television station in Chile. Formerly called Teleonce and RTU , this TV station was owned by University of Chile, a Chilean state university...
.
Between 1979 and 1989 Leonardo Schultz and Gary H. Mason (Mason is one of the Pioneers of the Reggaeton Movement) teamed up to help revamp the festival and streamline its operations. They arranged for the appearance of Artists including: The Police, Air Supply, Eddie Money, Sheena Easton, Jose Feliciano (they also produced his Grammy nominated album "Escenas De Amor" in 1982, as well as the Grammy winning album "Me Enamore" in 1983), Andy Gibb, Neil Sedaka, Gloria Gaynor, Mr Mister, Krokus, Foxxy, Nazareth, and Thomas Anders to name a few. In 1988 and 1989,
Thomas Anders
Thomas Anders
Thomas Anders is a German singer, composer and record producer. Anders was the lead singer of Germany's popular pop-duo Modern Talking in 1984–1987 and in 1998–2003.-Early years:...
(of
Modern Talking
Modern Talking
Modern Talking was a German dance pop duo consisting of Thomas Anders and Dieter Bohlen. Their music has often been classified as Europop. They have been referred to as Germany's most successful pop duo, and have had a number of hit singles, reaching the top 5 in many countries...
fame) was a headliner of the festival in Viña del Mar, which was one of the first times an Artist was ever invited back two years in a row to perform.
Schultz and Mason also arranged for major international jurors including: George Martin (Producer of the Beatles), Maurice Jarre (did the film scores for Dr. Zhivago, Lawrence of Arabia, Witness, Passage To India, Ghost and many others), Manoela Torres (Mason produced her hit duet, which was written by Schultz entitled "No Me Mires Asi), Joey Travolta, Connie Stevens and many others.
In the 90's the broadcast rights to the Festival were given to Televisa, and featured prominent Mexican Artists, as well as major Latin Artists.
In 2008,
American
United States
The United States of America is a federal constitutional republic comprising fifty states and a federal district...
rock music
Rock music
Rock music is a genre of popular music that developed during and after the 1960s, particularly in the United Kingdom and the United States. It has its roots in 1940s and 1950s rock and roll, itself heavily influenced by rhythm and blues and country music...
band
Journey
Journey (band)
Journey is an American rock band formed in 1973 in San Francisco by former members of Santana. The band has gone through several phases; its strongest commercial success occurred between the 1978 and 1987, after which it temporarily disbanded...
played their first concert with new vocallist
Arnel Pineda
Arnel Pineda
Arnel Pineda is a Filipino singer-songwriter who has served as the lead singer of the American rock band Journey since 2007. Pineda has had a successful musical career in the Philippines for the last 25 years.- Biography :...
at the festival. The 2008 Viña Festival was hosted by Sergio Lagos and Tonka Tomicic, and headlined by
Nelly Furtado
Nelly Furtado
Nelly Kim Furtado is a Canadian singer-songwriter, record producer and actress. Furtado grew up in Victoria, British Columbia, Canada.Furtado first gained fame with her debut album, Whoa, Nelly!, and its single "I'm Like a Bird", which won a 2001 Juno Award for Single of the Year and a 2002 Grammy...
,
Wisin & Yandel
Wisin & Yandel
Wisin & Yandel are a Puerto Rican reggaeton Duo, consisting of Juan Luis Morera Luna and Llandel Veguilla Malavé Salazar . They started their career in 1998 and have been together since, winning several awards during that time....
, and
Earth, Wind & Fire
Earth, Wind & Fire
Earth, Wind & Fire is an American soul and R&B band formed in Chicago, Illinois, in 1969 by Verdine and Maurice White. Also known as EWF, the band has won six Grammy Awards and four American Music Awards. They have been inducted into both the Rock and Roll Hall of Fame and the Vocal Group Hall of...
.
In 2009, artists such as Latin sensation Daddy Yankee and British legend Simply Red captivated the audience of Viña. On its 50th edition, this famous festival was hosted by Felipe Camiroaga and news reader Soledad Onetto.
El Monstruo
Traditionally, the audience attending the Quinta Vergara for a Festival each year openly demonstrates its acceptance or displeasure on the acts that perform there, be they contestants in the two competitions or established artists. As a result, Chilean media has nicknamed audiences at the Festival as "El Monstruo" ("The Monster"). Earning acceptance from "El Monstruo" usually has a direct impact on an artist's popularity -particularly that of Spanish language pop stars- on the rest of Latin America. Conversely, booing artists offstage is not uncommon.
Artist compete in the Festival's regular competitions for one of three awards, given in this order: "Antorcha de Plata" (Silver Torch), "Antorcha de Oro" (Golden Torch) and "Gaviota de Plata" (Silver Seagull). However, audience response from the "Monster" may demand that one of the three awards -or, progressively, all three- also be granted to an established act as their performance progresses. An artist that "tames The Monster" by earning all three awards receives recognition as a major star by Chilean and Latin American media almost immediately after a successful performance.
International contest
Before 1968, the contest only allowed Chilean composers.
In 2000 the contest included the best songs in the history of the festival.In 2009, the contest included former winners between 2001 and 2008.In 2010 had a contest with the most representative songs of the participant countries.

Event
Country
Name
Composer
Artist
I
1960
Viña del Mar
José Goles, Manuel Lira
Mario del Monte
II
1961
Sin tu amor
Óscar Olivares, Gilberto Ávila
Los Cuatro Duendes
III
1962
Dime por qué
María Pilar Larraín
Los Cuatro Duendes
IV
1963
Tan sólo una mirada
Juan Vásquez
Marco Aurelio
V
1964
Está de más
Ricardo Jara
Ginette Acevedo
VI
1965
Como una ola
María A. Ramírez
Cecilia
VII
1966
Por creer en ti
Marco Aurelio, Jaime Atria
Isabel Adams
VIII
1967
Cuando rompe el alba
Willy Bascuñán
Fresia Soto
IX
1968
Palabras
Jorge Domingo, Enrique Carnicer, Pons de Carnicer
Luz Eliana
X
1969
Mira, mira
Scottie Scott
Gloria Simonetti
XI
1970
Canción a Magdalena
Julio Zegers
Julio Zegers
XII
1971
Void contest by plagiarism
XIII
1972
Julie
Julio Bernardo Euson
Julio Bernardo Euson
XIV
1973
Los Pasajeros
Julio Zegers
Julio Zegers
XV
1974
Imagina
Giancarlo de Bellis
Annarita Spinaci
XVI
1975
Love Song
Kostas Karagiannopoulos
Elpida
XVII
1976
Una noche de amor
Carlos Baeza
Roberto Viking Valdés
XVIII
1977
Canción de amor
Boaz Sharabi

Boaz Sharabi

Boaz Sharabi is an Israeli singer-songwriter, composer, guitarist, crooner, pianist, actor, tenor, chazan and lyricist, well-known for such integral Israeli classics as Latet, Halevai, At Li Laila, Pamela, Lashir Itach, Kol Od, Mi Yada Shekach Yihiyeh, K'Shetavo , Im At Adain Ohevet Oti and Etzli...



Nava Baruchin
XIX
1978
El tiempo en las bastillas
Fernando Ubiergo

Fernando Ubiergo

Fernando Ubiergo is a singer-songwriter and Chilean musician.Ubiergo is renowned for his creative musical work that has developed over a career spanning more than thirty years, which include awards from the Festival International de la Canción de Viña del Mar , Festival de Benidorm Fernando...



Fernando Ubiergo

Fernando Ubiergo

Fernando Ubiergo is a singer-songwriter and Chilean musician.Ubiergo is renowned for his creative musical work that has developed over a career spanning more than thirty years, which include awards from the Festival International de la Canción de Viña del Mar , Festival de Benidorm Fernando...



XX
1979
A tu regreso a casa
Braulio

Braulio (singer)

Braulio Antonio García Bautista , is a Spanish singer-songwriter.He began his music career in 1973, and in 1976 he was chosen by a public vote to participate for Spain at the Eurovision Song Contest with the self penned song "Sobran las palabras". He placed 16th in a field of 18...



Braulio

Braulio (singer)

Braulio Antonio García Bautista , is a Spanish singer-songwriter.He began his music career in 1973, and in 1976 he was chosen by a public vote to participate for Spain at the Eurovision Song Contest with the self penned song "Sobran las palabras". He placed 16th in a field of 18...



XXI
1980
Dudando, dudando
Julio Seijas, Augusto Alguero
Juan Sebastián
XXII
1981
Esperando
Karlheinz Merkel, Cherry Laine

Cherry Laine

Cherry Laine is female disco star. Her father was a clergyman, her mother a nurse. At the age of six she is said to have been singing in her father's church choir accompanied by her mother playing the organ. The family moved to England. The mother wanted her daughter to become a nurse and a...



Cherry Laine

Cherry Laine

Cherry Laine is female disco star. Her father was a clergyman, her mother a nurse. At the age of six she is said to have been singing in her father's church choir accompanied by her mother playing the organ. The family moved to England. The mother wanted her daughter to become a nurse and a...



XXIII
1982
Ausencia
Juan Carlos Duque
Juan Carlos Duque
XXIV
1983
Alma, corazón y pan
Gervasio

Gervasio

José Gervasio Viera Rodríguez , also simply known as Gervasio, was an Uruguayan singer who achieved popularity in Chile in 1983, when he won the international competition of the Viña del Mar International Song Festival, with the song "Alma, Corazón y Pan"...



Gervasio

Gervasio

José Gervasio Viera Rodríguez , also simply known as Gervasio, was an Uruguayan singer who achieved popularity in Chile in 1983, when he won the international competition of the Viña del Mar International Song Festival, with the song "Alma, Corazón y Pan"...



XXV
1984
Se te olvida
Héctor Pernos Bañas
Cristóbal
XXVI
1985
Ya no puedo más
K. C. Porter

K. C. Porter

KC Porter is an American record producer, songwriter, musician and singer. For nearly three decades in the entertainment industry, Porter has earned numerous Grammy nominations and 3 Grammys and Latin Grammys...


, Turner y Toppano
Lorenzo Toppano
XXVII
1986
Para quererte
José Antonio Rodríguez
Maridalia Hernández
XXVIII
1987
Kiss me
Ana María de Salvatore
Desa
XXIX
1988
Senza te
Maurizio Piccoli, Gino Mescoli
Marco Del Freo
XXX
1989
Te propongo
Fernando Garavito
Edna Rocio
XXXI
1990
Non devi abbandonarmi mai
Angela Tarenzzi
Piero Cotto
XXXII
1991
Tira la primera piedra
Edgardo Riquelme, Sergio Bravo
Javiera Parra, Pedro Foncea
XXXIII
1992
Parece tan sencillo
Juan Carlos Duque
Fernando Casas
XXXIV
1993
In questo mondo
Garibo Giuseppe
Claudio Cirimele
XXXV
1994
Como ayer
Claudia Brant

Claudia Brant

Claudia Brant is an Argentina singer and composer of international acclaim. She has composed songs for singers like Il Divo, Ricky Martin, Santana, Luis Fonsi, Chayanne, Tito Nieves, Olga Tañón, Paulina Rubio, La Ley, Gisselle or Víctor Manuelle...


, Daniel Tarrab
Claudia Brant

Claudia Brant

Claudia Brant is an Argentina singer and composer of international acclaim. She has composed songs for singers like Il Divo, Ricky Martin, Santana, Luis Fonsi, Chayanne, Tito Nieves, Olga Tañón, Paulina Rubio, La Ley, Gisselle or Víctor Manuelle...



XXXVI
1995
Si tú te vas
Cristian Fissore, René Calderón
Jossé
XXXVII
1996
Aria Ario
Paolo Meneguzzi

Paolo Meneguzzi

Paolo Meneguzzi is an Swiss Italian singer. He is the son of Loredana Pacchiani and Gomez Meneguzzo.-Biography:...


, Dino Melotti
Paolo Meneguzzi

Paolo Meneguzzi

Paolo Meneguzzi is an Swiss Italian singer. He is the son of Loredana Pacchiani and Gomez Meneguzzo.-Biography:...



XXXVIII
1997
Para vivir un dulce amor
Víctor Heredia

Victor Heredia

Víctor Heredia is an Argentine singer songwriter. Author of Taki Ongoy, a symphonic work about Taki Unquy, a millenarian movement against the Spanish conquest.-Biography:...


, Carlos Nilson
Carlos Elías
XXXIX
1998
Soy tal cual soy
Álvaro Scaramelli
Álvaro Scaramelli
XL
1999
El aguacero
Alejandro Gómez Cáceres
Carolina Sabino
XLI
2000
Let Me Try Again (Laisse-moi le Temps)
Jourdan y Caravelli

Caravelli

Caravelli, real name Claude Vasori is a French orchestra leader, composer and arranger of orchestral music.-Biography:...



Peabo Bryson

Peabo Bryson

Peabo Bryson is an American R&B and soul singer-songwriter, born in Greenville, South Carolina...



XLII
2001
Ayer te vi
Víctor Heredia
Raly Barrionuevo
XLIII
2002
Soy tu ángel
Ricardo Pald, Valeria Lynch

Valeria Lynch

-Biography:Valeria Lynch was born on January 7, 1952 in the neighborhood of Villa Urquiza, Buenos Aires, Argentina. Is the first child of the marriage of Maria Antonia Spano and José Julio Lancellotti....



Oscar Patiño
XLIV
2003
Este amor es tuyo
Chema Purón
Gisela

Gisela (singer)

Gisela is a Spanish pop singer. She was born in Barcelona, Catalonia, Spain, and became famous after placing eighth in the first edition of Operación Triunfo. Before the start of Operacion Triunfo, she was a student at the Autonomous University of Barcelona, studying journalism.-Career after...



XLV
2004
Tus ojos
Alexis Venegas
Alexis Venegas
XLVI
2005
Mi alma entre tus manos
Jessica Sarango, Jorge Pardo, Andrés Landavere
Jorge Pardo
XLVII
2006
Dilo de una vez
Humberto Vargas Valerio
Humberto Vargas Valerio
XLVIII
2007
Cuando quieras volver
Pedro Fernández, Valderrama Díaz
Materia Prima
XLIX
2008
La guerra dei trent' anni
Domenico Protino
Domenico Protino
L

2009 Viña del Mar International Song Festival

The 2009 Viña del Mar International Song Festival was held from Monday 23 February until Saturday 28 February.This festival was the number 50, and had a special award for the 50 years, the "Gold Song", elected between the winner songs from 2001 to 2008 versions of Festival...



2009
Ayer te vi
Víctor Heredia

Victor Heredia

Víctor Heredia is an Argentine singer songwriter. Author of Taki Ongoy, a symphonic work about Taki Unquy, a millenarian movement against the Spanish conquest.-Biography:...



Emiliano Ríos
LI

2010 Viña del Mar International Song Festival

The Viña del Mar International Song Festival 2010 was held from February 22, 2010 until Saturday February 27, 2010. The musical event was broadcast on Chilean TV channels TVN and Canal 13, and will be held in Viña del Mar, Chile, like the past 50 editions. The show is hosted for the second time by...



2010
Volare

Volare

Volare is the Latin and Italian verb to fly; adding an acute accent on the final e it is also the Spanish word for I will fly...



Domenico Modugno

Domenico Modugno

Domenico Modugno was an Italian singer, songwriter, actor, and later in life, a member of the Italian Parliament. He is known for his 1958 international hit song "Nel Blu Dipinto Di Blu "...


, Franco Migliacci

Franco Migliacci

Franco Migliacci is a lyricist, producer, and actor. He is also known as Francesco Migliacci.- Biography :...



Simona Galeandro
LII

2011 Viña del Mar International Song Festival

The Viña del Mar International Song Festival 2011 was released from February 21, 2011 until Saturday February 26, 2011. The musical event was broadcast for first time via Chilean TV channel Chilevisión.-Licitation:...



2011
Try anything
Chris Burke-Gaffney

Chris Burke-Gaffney

Chris Burke-Gaffney is an Canadian songwriter, producer, and artist manager. Burke-Gaffney also oversees the day-to-day operation of CBG Artist Development and Vatikan Records.-History:...


, Sierra Noble
Sierra Noble
Winning countries
: 20 times (12 times in the International Contest + 8 when the Contest was only national): 8 times: 5 times: 5 times: twice: once: once: once: once: once: once: once: once: once: once: once
Folk contest
Between 1974 and 1980 this contest was cancelled by the military government of Augusto Pinochet
Before 2000, the contest only allowed Chilean composers.In 2009, the contest included the former winners between 2001 and 2008.

Event
Country
Name
Composer
Artist
II
1961
La Consentida
Jaime Atria
Olga Escobar y Estampas Criollas
III
1962
El loro aguafiestas
Manuel Lira y José Goles
Silvia Infantas y Los Cóndores
IV
1963
Álamo huacho
Clara Solovera
Los Huasos Quincheros
V
1964
Qué bonita va
Francisco Flores del Campo
Los Huasos Quincheros
VI
1965
Mano nortina
Hernán Álvarez
Los Cuatro Cuartos
VII
1966
La burrerita
Sofanor Tobar
Los Paulos
VIII
1967
Cuando voy pa' Mendoza
Willy Bascuñan
Los Solitarios
IX
1968
Camanchaca y polvareda
Ricardo de la Fuente
Los Ponchos Negros
X
1969
Cuando tomo la guitarra
Orlando Muñoz y Alsino Fuentes
Los Alfiles Negros
XI
1970
El hombre
Rolando Alarcón
Rolando Alarcón y Los Emigrantes
XII
1971
La torcacita
Óscar Cáceres y Luis Barragán
Ginette Acevedo
XIII
1972
Viejo puente
Ariel Arancibia y Fernando Pavez
Los Lazos
XIV
1973
Mi río
Julio Numhauser
Charo Cofré
XXII
1981
Ay, Fernanda
Ricardo de la Fuente
Santiago Cuatro
XXIII
1982
La tejedora
Sandra Ramírez
Pedro Messone
XXIV
1983
En los tiempos de mi abuelo
Roberto Rojas y Juan Castillo
Juan Carlos Méndez
XXV
1984
Chile, una postal
Teresa Rodríguez
Los Chacareros de Paine
XXVI
1985
La Reina del Tamarugal
Manuel Veas y Luis Miranda
Calichal
XXVII
1986
Sube a mi lancha
Ignacio Millán
Chilote Peñaloza y Los Huillincanos
XXVIII
1987
Rapa Nui mi amor
Ignacio Millán y María Teresa Díaz
Lorena y Manu Rere
XXIX
1988
Camino a Socoroma
Danny Rodríguez
Los Yanacochas
XXX
1989
Maja en Aldachildo
Ricardo de la Fuente
Ricardo de la Fuente
XXXI
1990
No habrá verso que me alcance
Yayo Castro y Hugo Castillo
Los Surcadores del Viento
XXXII
1991
De Chingana
Héctor Molina
Héctor Molina
XXXIII
1992
Tejiendo está la manque
Cecilia González
Leticia y Cantarauco
XXXIV
1993
Canto del agua
Agustín Moncada
Kal
XXXV
1994
Mirando pa' la bahía
José Luis Hernández
José Luis Hernández y Cantamérica
XXXVI
1995
María Leonor Lucía
Magdalena Matthey
Magdalena Matthey
XXXVII
1996
Cueca tristona
Edson Guerrero
Clarita Parra
XXXVIII
1997
Cartagena
Claudio Guzmán
Tito Fernández
XXXIX
1998
La noche de Chillán
Pablo Neruda, Vicente Bianchi
Santiago Cuatro
XXXX
1999
Cueca pulenta
Víctor Hugo Campusano
Altamar
XLI
2000
El Corralero
Sergio Sauvalle
Los Huasos Quincheros
XLII
2001
Whipala
Danny Rodríguez
Danny Rodríguez
XLIII
2002
Juramento
Carlos Rincón
Eduardo del Perú
XLIV
2003
Pintadita
Fernando Barrientos
Fernando Barrientos
XLV
2004
Bailando con tu sombra (Alelí)
Víctor Heredia

Victor Heredia

Víctor Heredia is an Argentine singer songwriter. Author of Taki Ongoy, a symphonic work about Taki Unquy, a millenarian movement against the Spanish conquest.-Biography:...



Abel Pintos
XLVI
2005
Cueca al sol
Isabel Parra

Isabel Parra

Isabel Parra is a famous Chilean singer-songwriter and interpreter of Latin American musical folklore.Isabel Parra was born in Chile in 1939 and began her career in music at the age of 13 when she made her first recording with her world-renowned mother, the folklorist Violeta Parra...



Camila Méndez
XLVII
2006
Canción de agua y viento
Elizabeth Morris
Elizabeth Morris y grupo
XLVIII
2007
Me duele el alma
Leonardo Gómez, Diana Hernández
Maria Mulata
XLIX
2008
Tusuy Kusun
Damaris Mallma

Damaris (singer)

Damaris Mallma Porras , is a Peruvian folk singer. She is a representative of contemporary Andean music, which consists of a mix of the traditional Indian language Quechua and modern pop music.- Biography :...



Damaris y grupo
L

2009 Viña del Mar International Song Festival

The 2009 Viña del Mar International Song Festival was held from Monday 23 February until Saturday 28 February.This festival was the number 50, and had a special award for the 50 years, the "Gold Song", elected between the winner songs from 2001 to 2008 versions of Festival...



2009
Cueca al sol
Isabel Parra
Camila Méndez
LI

2010 Viña del Mar International Song Festival

The Viña del Mar International Song Festival 2010 was held from February 22, 2010 until Saturday February 27, 2010. The musical event was broadcast on Chilean TV channels TVN and Canal 13, and will be held in Viña del Mar, Chile, like the past 50 editions. The show is hosted for the second time by...



2010
El Cantar es Andar
César Isella
César Isella
LII

2011 Viña del Mar International Song Festival

The Viña del Mar International Song Festival 2011 was released from February 21, 2011 until Saturday February 26, 2011. The musical event was broadcast for first time via Chilean TV channel Chilevisión.-Licitation:...



2011
De Pascua Lama
Patricio Manns
Valentina Sepúlveda y Diapazón Porteño
Winning countries (since 2001, start of International Folk Contest)
: 5 times (and 35 years of National Folk Contest, between 1960 and 2000): 3 times: twice: once
External links