 Verband Deutscher Prädikats- und Qualitätsweingüter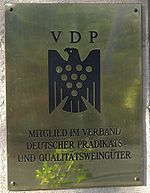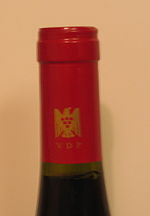 Verband Deutscher Prädikats- und Qualitätsweingüter e.V.
or the Association of German Prädikat Wine Estates, is an organisation where most (but not all) of
Germany
Germany
Germany , officially the Federal Republic of Germany , is a federal parliamentary republic in Europe. The country consists of 16 states while the capital and largest city is Berlin. Germany covers an area of 357,021 km2 and has a largely temperate seasonal climate...
's top
wine
Wine
Wine is an alcoholic beverage, made of fermented fruit juice, usually from grapes. The natural chemical balance of grapes lets them ferment without the addition of sugars, acids, enzymes, or other nutrients. Grape wine is produced by fermenting crushed grapes using various types of yeast. Yeast...
producers are members. It is commonly known under its acronym
VDP
. Its membership includes about 200 wine estates and it was founded in 1910 as
Verband Deutscher Naturweinversteigerer e.V.
, Association of German Natural (i.e. not
chaptalized
Chaptalization
Chaptalization is the process of adding sugar to unfermented grape must in order to increase the alcohol content after fermentation. The technique is named after its developer, the French chemist Jean-Antoine-Claude Chaptal...
) Wine Auctioneers. It consists of 13 regional associations, one for each region in the
German wine classification
German wine classification
German wine classification consists of several quality categories and is often the source of some confusion, especially among non-German speaking wine consumers. The official classification is set down in the wine law of 1971, although some changes and amendments have been made since then...
system.
In order to be a VDP member, a wine estate must adhere to certain standards which are slightly more stringent than those set down in the German wine law. VDP members may (and almost always do) use the VDP logotype, a stylized
eagle
Eagle
Eagles are members of the bird family Accipitridae, and belong to several genera which are not necessarily closely related to each other. Most of the more than 60 species occur in Eurasia and Africa. Outside this area, just two species can be found in the United States and Canada, nine more in...
with a cluster of grapes, on their wine bottles. Also, the members have access to the new VDP-specific classifications
Erste Lage
and
Grosses Gewächs
for top dry wines that fulfill the requirements. VDP and its regional associations also arrange
German wine auctions
German wine auctions
A number of German wine auctions are held each year, where the premier German wine producers auction off some of the best young wines, as well as some older wines. Most auctions are arranged by the regional associations of Verband Deutscher Prädikats- und Qualitätsweingüter...
and various marketing events.
Especially in the Mosel region, where the regional VDP association is known as
Grosser Ring
, several well-renowned wine estates are instead members of
Bernkasteler Ring
, which arranges similar auctions and marketing evens.
Member estates
(as per May 2007):

Ahr

Ahr (wine region)

Ahr is a wine region for quality wine in Germany, and is located in the valley of the river Ahr, a tributary of Rhine, and is situated in the federal state of Rhineland-Palatinate. With only of vines as of 2008, it is one of smaller of Germany's 13 regions...


:

Weingut Adeneuer
Deutzerhof
Weingut Kreuzberg
Weingut Meyer-Näkel
Weingut Nelles
Rotweingut Jean Stodden



Baden

Baden (wine region)

Baden is a region for quality wine in Germany, and is located in the historical region of Baden in southwestern Germany, which today forms part of the federal state of Baden-Württemberg...


:

Weingut Bercher
Weingut Blankenhorn
Staatsweingut Freiburg & Blankenhornsberg
Weingut Burg Ravensburg
Weingut Freiherr von und zu Franckenstein
Weingut Dr. Heger
Weingut Reichsgraf und Marquis zu Hoensbroech
Weingut Bernhard Huber
Weingut Stadt Lahr
Weingut Andreas Laible
Weingut Lämmlin-Schindler
Weingut Schloss Neuweier
Weingut Salwey
Privat-Weingut H. Schlumberger
Weingut Stigler

Franconia

Franconia (wine region)

Franconia is a region for quality wine in Germany situated in the north west of Bavaria in the district of Franconia, and is the only wine region in the federal state of Bavaria...


:


Weingut Johann Arnold
Weingut Wilhelm Arnold
Weingut Bickel-Stumpf
Bürgerspital zum Hl. Geist
Fürstlich Castell'sches Domänenamt
Weingut Michael Fröhlich
Weingut Rudolf Fürst
Weingut Glaser-Himmelstoss
Staatlicher Hofkeller Würzburg
Weingut Höfler
Weingut Juliusspital
Weingut der Stadt Klingenberg
Weingut A.F. Kreglinger
Weingut Fürst Löwenstein
Weingut Roth
Weingut Johann Ruck
Weingut Horst Sauer
Weingut Egon Schäffer
Weingut Schmitt's Kinder
Weingut Richard Schmitt
Weingut Graf von Schönborn
Weingut Schwab
Weingut Zur Schwane
Weingut Schloss Sommerhausen
Weingut Am Stein
Weingut Josef Störrlein
Weingut Wolfgang Weltner
Weingut Hans Wirsching
Weingut Zehnthof


Hessische Bergstraße

Hessische Bergstraße

The Hessische Bergstraße is a defined region for wine in Germany located in the state of Hesse among the northern and western slopes of the Odenwald mountain chain. With only of vineyards it is the smallest of the 13 German quality wine regions...


:

Hessische Staatsweingüter Kloster Eberbach



Mittelrhein

Mittelrhein (wine region)

Mittelrhein is a region for quality wine in Germany, and is located along a 120 km stretch of river Rhine in the touristic portions of the Rhine region known as Middle Rhine. On the left bank of Rhine, vineyards begin immediately downstream of the Nahe River estuary and last until Koblenz...


:

Weingut Bastian
Weingut Toni Jost - Hahnenhof
Weingut Lanius-Knab
Weingut Helmut Mades
Weingut Matthias Müller
Weingut Ratzenberger



Mosel:

Weingut Clemens Busch
Weingut Joh. Jos. Christoffel Erben
Weingut Dr. Fischer
Weingut Le Gallais
Weingut Forstmeister Geltz-Zilliken
Weingut Grans-Fassian
Weingut Fritz Haag
Weingut Willi Haag
Weingut Reinhold Haart
Weingut Herrenberg
Weingut Heymann-Löwenstein
Weingut von Hövel
Weingut Karthäuserhof
Weingut Reichsgraf von Kesselstatt
Weingut Schloss Lieser
Weingut Dr. Loosen
Weingut Egon Müller-Scharzhof

Egon Müller IV

Egon Müller IV born 20 August 1959 is a German winemaker and owner of the wine producer Weingut Egon Müller, Scharzhof, located just outside Wiltingen. The winery is located in the Mosel wine region, more specifically the Saar district. The winery's prized wines come from the vineyard Scharzhofberg...



Weingut von Othegraven

Weingut von Othegraven

Weingut von Othegraven is a wine-growing estate in the Mosel wine region with a wine-growing history of the site from the 2nd–4th century and a documented tradition of more than 600 years...



Weingut Piedmont
Weingut Joh. Jos. Prüm
Weingut S.A. Prüm
Weingut Schloss Saarstein
Weingut Willi Schäfer
Weingut Studert-Prüm
Weingut Erben Thanisch
Weingut Sankt Urbans-Hof
Weingut Vereinigte Hospitien
Weingut van Volxem
Weingut Dr. Heinz Wagner
Weingüter Gemeinrat J. Wegeler
Weingut Dr. F. Weins-Prüm



Nahe

Nahe (wine region)

Nahe is a region for quality wine in Germany, along the River Nahe in the state of Rhineland-Palatinate. On the region's of vineyards in 2008, white wine grapes dominate with 75% and Riesling is the most common variety with 27.2%...


:

Weingut Dr. Crusius
Weingut Schlossgut Diel
Weingut Dönnhoff

Dönnhoff

Weingut Hermann Dönnhoff is a German wine grower and producer based in Oberhausen, in the wine-growing region of Nahe, Germany. The Dönnhoff family have been making wine in this region since 1750....



Weingut Emrich-Schönleber
Weingut Kruger-Rumpf
Gutsverwaltung Niederhausen-Schlossböckelheim
Weingut Schloss Wallhausen
Weingut Schäfer-Fröhlich
Weingut Tesch


Rheingau

Rheingau (wine region)

Rheingau is one of 13 German wine regions for quality wines . Named for the traditional region of Rheingau , the wine region is situated in the state of Hesse, where it makes up part of the Rheingau-Taunus-Kreis administrative district...


:

Weingut Fritz Allendorf
Wein- und Sektgut Barth
Weingut C. Belz
Weingut Jakob Jung
Diefenhardt'sches Weingut
Hessische Staatsweingüter Kloster Eberbach
Weingut Erbslöh
Weingut August Eser
Weingut Bernhard Eser
Weingut Friedrich Fendel
Weingut in der Straßenmühle
Weingut Forschungsanstalt Geisenheim
Weingut Alexander Freimuth
Weingut Georg Müller Stiftung
Weingut Jakob Hamm
Weingut Prinz von Hessen
Weingut Hupfeld
Weinbaudomäne Schloss Johannisberg

Schloss Johannisberg

Schloss Johannisberg is a winery in the Rheingau wine-growing region in Germany, that has been making wine for over 900 years. The winery is most noted for its claim to have "discovered" late harvest wine.- History :...



Johannishof
Weingut Jakob Jung
Weingut Graf von Kanitz
Weingut August Kesseler
Weingut Baron Knyphausen
Weingut Robert König
Weingut Peter Jakob Kühn
Weingut Künstler
Weingut Lorenz H. Kunz
Weingut Hans Lang
Weingut Josef Leitz
Weingut Fürst Löwenstein
Weingut Dr. Heinrich Nägler
Weingut Detlev Ritter und Edler von Oetinger
Weingut Prinz
Weingut Wilfried Querbach
Weingut Schloss Reinhartshausen
Weingut Balthasar Ress
Weingut Graf von Schönborn
Weingut Freiherrlich Langwerth von Simmern'sches Rentamt
Weingut Joseph Spreitzer
Weingut Schloss Vollrads

Schloss Vollrads

Schloss Vollrads is a wine estate in the Rheingau wine-growing region in Germany, that has been making wine for over 800 years.-History:After the donation of Verona in 983 the archbishopric of Mainz, the new owner, invested in vine growing, although vines had been cultivated there since Roman...



Weingüter Wegeler
Weingut Robert Weil
Domdechant Werner'sches Weingut


Rheinhessen

Rheinhessen (wine region)

Rheinhessen is the largest of 13 German wine regions for quality wines with under cultivation in 2008. Named for the traditional region of Rhenish Hesse, it lies on the left bank of the River Rhine between Worms and Bingen in the federal state of Rhineland-Palatinate...


:

Weingut St. Antony

Weingut St. Antony

St. Antony is a wine estate in the Rheinhessen wine-growing region in Germany, that has been making wine since the end of the First World War....



Weingut Brüder Dr. Becker
Weingut Heinrich Braun
Weingut Geschwister Schuch
Weingut K. F. Groebe
Weingut Gunderloch
Weingut Gutzler
Weingut Klaus Keller
Weingut Kühling Gillot
Weingut Oberstleutnant Liebrecht'sche Gutsverwaltung
Weingut Neus
Weingut Rappenhof
Staatliche Weinbaudomäne Rheinland-Pfalz (Oppenheim)
Weingut Villa Sachsen
Weingut Wagner-Stempel
Schloss Westerhaus
Weingut Wittmann


Palatinate

Palatinate (wine region)

Palatinate is a German wine-growing region in the area of Bad Dürkheim, Neustadt an der Weinstraße, and Landau in Rhineland-Palatinate. Before 1993, it was known as Rhine Palatinate . With under cultivation in 2008, the region is the second largest wine region in Germany after Rheinhessen...


:

Weingut Acham-Magin
Weingut Geheimer Rat Dr. von Bassermann-Jordan
Weingut Friedrich Becker
Weingut Bergdolt
Weingut Bernhart
Weingut Josef Biffar
Weingut Dr. Bürklin-Wolf
Weingut Reichsrat von Buhl
Weingut A. Christmann
Weingut Dr. Deinhard
Weingut Fitz-Ritter
Weingut Henninger IV
Weingut Knipser
Weingut Koehler-Ruprecht
Weingut Herbert Meßmer
Weingut Müller-Catoir
Weingut Münzberg
Weingut Mugler
Weingut Pfeffingen Fuhrmann-Eymael
Weingut Ökonomierat Rebholz
Weingut Karl Schaefer
Weingut Georg Siben Erben
Weingut Siegrist
Weingüter Geheimrat J. Wegeler
Weingut Dr. Wehrheim


Saale-Unstrut

Saale-Unstrut

Saale-Unstrut is a region for quality wine in Germany, and takes its name from the rivers Saale and Unstrut. The region is located on various hill slopes around these rivers...


:

Weingut Lützkendorf
Weingut Pawis



Saxony

Saxony (wine region)

Saxony is a region for quality wine in Germany located in the German federal state of Saxony. The region is sometimes referred to colloquially as the Elbtal . The wine region covers , which makes it Germany's third smallest region, just ahead of Mittelrhein and Hessische Bergstraße in size...


:

Württemberg

Württemberg (wine region)

Württemberg is a region for quality wine in Germany, and is located in the historical region of Württemberg in southwestern Germany, which today forms part of the federal state of Baden-Württemberg. Under German wine legislation, Württemberg and Baden are separate wine regions.With under vine in...


:

Weingut Gerhard Aldinger
Graf von Bentzel-Sturmfeder Horneck'sches Weingut
[Weingut Ernst Dautel]
Weingut Drautz-Able
Weingut Jürgen Ellwanger
Weingut Graf Adelmann
Weingut Karl Haidle
Weingut Schlossgut Hohenbeilstein
Weingut Fürst zu Hohenlohe-Öhringen
Weingut des Grafen Neipperg
Weingut Rainer Schnaitmann
Staatsweingut Weinsberg
Weingut Herzog von Württemberg
Weingut Wöhrwag
External links