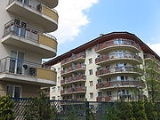 Ursynów
Ursynów
is the southernmost
district
Dzielnica
In the Polish system of local administration, a dzielnica is an administrative subdivision or quarter of a city or town. A dzielnica may have its own elected council , and those of Warsaw each have their own mayor...
of
Warsaw
Warsaw
Warsaw is the capital and largest city of Poland. It is located on the Vistula River, roughly from the Baltic Sea and from the Carpathian Mountains. Its population in 2010 was estimated at 1,716,855 residents with a greater metropolitan area of 2,631,902 residents, making Warsaw the 10th most...
. With a surface area of 44.6 km², it is the third largest district in Warsaw, comprising 8.6 percent of the city. The district has a population of almost 148,000, and is one of the fastest growing neighborhoods in Warsaw. Nearly 25 percent of its inhabitants are below 18 years of age.
The eastern section of Ursynów is heavily built up with blocks of flats, while its western and southern sections are often referred to as
Green Ursynów
due to its lower population density and broad open spaces and green areas. The neighborhood is considered the
bedroom of Warsaw
, and is home to nearly a quarter of the city's post-1989 construction.
Ursynów's southern extremity comprises Kabaty Forest, covering more than 9.2 km². Other popular attractions include the
Vistula
Vistula
The Vistula is the longest and the most important river in Poland, at 1,047 km in length. The watershed area of the Vistula is , of which lies within Poland ....
river escarpement,
Natolin
Natolin
Natolin is a historic park and nature reserve on the southern edge of Warsaw, Poland. "Natolin" is also the name of a neighborhood located to the west of the park — a part of Warsaw's southernmost Ursynów district....
palace and Służewiec horseracing track (built in 1939), used not only for its original purpose, but for open-air exhibitions, pop concerts, etc.
External links