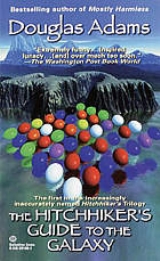 The Hitchhiker's Guide to the Galaxy
The Hitchhiker's Guide to the Galaxy
is a
science fiction comedy
Comic science fiction
Comic science fiction is a sub-genre of science fiction that exploits the genre's conventions for comic effect. Comic science fiction often mocks or satirizes standard SF conventions like alien invasion of Earth, interstellar travel, or futuristic technology....
series created by
Douglas Adams
Douglas Adams
Douglas Noel Adams was an English writer and dramatist. He is best known as the author of The Hitchhiker's Guide to the Galaxy, which started life in 1978 as a BBC radio comedy before developing into a "trilogy" of five books that sold over 15 million copies in his lifetime, a television...
. Originally a
radio comedy
The Hitchhiker's Guide to the Galaxy (radio series)
The Hitchhiker's Guide to the Galaxy is a science fiction comedy radio series written by Douglas Adams . It was originally broadcast in the United Kingdom by BBC Radio 4 in 1978, and afterwards on global short wave radio on the BBC World Service, National Public Radio in the U.S. and CBC Radio in...
broadcast on
BBC Radio 4
BBC Radio 4
BBC Radio 4 is a British domestic radio station, operated and owned by the BBC, that broadcasts a wide variety of spoken-word programmes, including news, drama, comedy, science and history. It replaced the BBC Home Service in 1967. The station controller is currently Gwyneth Williams, and the...
in 1978, it was later adapted to other formats, and over several years it gradually became an international multi-media phenomenon. Adaptations have included stage shows, a "trilogy" of five books published between 1979 and 1992, a sixth novel penned by
Eoin Colfer
Eoin Colfer
Eoin Colfer is an Irish author. He is most famous as the author of the Artemis Fowl series, but he has also written other successful books. His novels have been compared to the works of J. K. Rowling...
in 2009, a
1981 TV series
The Hitchhiker's Guide to the Galaxy (TV series)
The Hitchhiker's Guide to the Galaxy, is a BBC television adaptation of Douglas Adams's The Hitchhiker's Guide to the Galaxy broadcast in January and February 1981 on BBC Two...
, a
1984 computer game
The Hitchhiker's Guide to the Galaxy (computer game)
The Hitchhiker's Guide to the Galaxy is an interactive fiction computer game based on the comedic science fiction series of the same name. It was designed by series creator Douglas Adams and Infocom's Steve Meretzky, and was first released in 1984 for the Apple II, Macintosh, Commodore 64, DOS,...
, and three series of three-part comic book adaptations of the first three novels published by
DC Comics
DC Comics
DC Comics, Inc. is one of the largest and most successful companies operating in the market for American comic books and related media. It is the publishing unit of DC Entertainment a company of Warner Bros. Entertainment, which itself is owned by Time Warner...
between 1993 and 1996.
This planet has - or rather had - a problem, which was this: most of the people living on it were unhappy for pretty much of the time. Many solutions were suggested for this problem, but most of these were largely concerned with the movement of small green pieces of paper, which was odd because on the whole it wasn't the small green pieces of paper that were unhappy.

Many were increasingly of the opinion that they'd all made a big mistake in coming down from the trees in the first place. And some said that even the trees had been a bad move, and that no one should ever have left the oceans.

"Some factual information for you. Have you any idea how much damage that bulldozer would suffer if I just let it roll straight over you?" "How much?" said Arthur. "None at all," said Mr Prosser.

"The mere thought," growled Mr. Prosser, "hadn't even begun to speculate," he continued, settling himself back, "about the merest possibility of crossing my mind."

[The Guide] says that the best drink in existence is the Pan Galactic Gargle Blaster. It says that the effect of a Pan Galactic Gargle Blaster is like having your brains smashed out by a slice of lemon wrapped round a large gold brick.

"Time is an illusion. Lunchtime doubly so." "Very deep," said Arthur, "you should send that in to the Reader's Digest. They've got a page for people like you."

"This must be Thursday," said Arthur to himself, sinking low over his beer, "I never could get the hang of Thursdays."

The ships hung in the sky in much the same way that bricks don't.