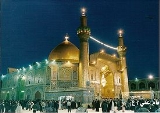 Shi'a Islam
Shia Islam is the second largest
denomination
Islamic schools and branches
Muslims are basically divided in two major factions, Sunnis and Shias, that are further divided into various Schools of Jurisprudence and orders of Imamate. All other movements within such as Salafi, Modernists, the Mystical Sufi Orders, Deobandi and Barelvi are either Sunni or Shia or both...
of
Islam
Islam
Islam . The most common are and . : Arabic pronunciation varies regionally. The first vowel ranges from ~~. The second vowel ranges from ~~~...
. The followers of Shia Islam are called Shi'ites or Shias. "Shia" is the short form of the historic phrase
Shīʻatu ʻAlī
, meaning "followers of
Ali
Ali
' |Ramaḍān]], 40 AH; approximately October 23, 598 or 600 or March 17, 599 – January 27, 661).His father's name was Abu Talib. Ali was also the cousin and son-in-law of the Islamic prophet Muhammad, and ruled over the Islamic Caliphate from 656 to 661, and was the first male convert to Islam...
", "faction of Ali", or "party of Ali".
Like other schools of thought in Islam, Shia Islam is based on the teachings of the
Islamic holy book
Islamic holy books
Islamic holy books are the texts which Muslims believe were dictated by God to various Islamic prophets throughout the history of mankind. All these books, in Muslim belief, promulgated the code and laws of Islam. Muslims believe the Qur'an, the final holy scripture, was sent because all the...
, the Quran and the message of the
final prophet
Last prophet
The term Last Prophet is used in religious contexts to refer to the last person through whom God speaks, after which there is to be no other.-Islam:...
of Islam,
Muhammad
Muhammad
Muhammad |ligature]] at U+FDF4 ;Arabic pronunciation varies regionally; the first vowel ranges from ~~; the second and the last vowel: ~~~. There are dialects which have no stress. In Egypt, it is pronounced not in religious contexts...
. In contrast to other schools of thought, the Shia believe that only
God
God in Islam
In Islamic theology, God is the all-powerful and all-knowing creator, sustainer, ordainer, and judge of the universe. Islam puts a heavy emphasis on the conceptualization of God as strictly singular . God is unique and inherently One , all-merciful and omnipotent. According to the Islamic...
has the right to choose a representative to safeguard Islam, the Quran and
sharia
Sharia
Sharia law, is the moral code and religious law of Islam. Sharia is derived from two primary sources of Islamic law: the precepts set forth in the Quran, and the example set by the Islamic prophet Muhammad in the Sunnah. Fiqh jurisprudence interprets and extends the application of sharia to...
(based upon verses in the Quran which stipulate this according to the Shia).