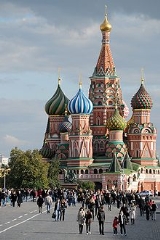 Saint Basil's Cathedral
The
Cathedral of the Protection of Most Holy Theotokos on the Moat
, popularly known as
Saint Basil's Cathedral
, is a Russian Orthodox church erected on the
Red Square
Red Square
Red Square is a city square in Moscow, Russia. The square separates the Kremlin, the former royal citadel and currently the official residence of the President of Russia, from a historic merchant quarter known as Kitai-gorod...
in Moscow in 1555–61. Built on the order of Ivan the Terrible to commemorate the
capture of Kazan
Siege of Kazan (1552)
The siege of Kazan in 1552 was the final battle of Russo-Kazan Wars. It led to the fall of Kazan Khanate. However, it was not the last battle on the khanate's territory. After the fall of Kazan, rebel governments formed in Çalım and Mişätamaq, and a new khan was invited from the Nogais...
and
Astrakhan
Astrakhan
Astrakhan is a major city in southern European Russia and the administrative center of Astrakhan Oblast. The city lies on the left bank of the Volga River, close to where it discharges into the Caspian Sea at an altitude of below the sea level. Population:...
, it marks the geometric centre of the city and the hub of its growth since the 14th century. It was the tallest building in Moscow until the completion of the
Ivan the Great Bell Tower
Ivan the Great Bell Tower
The Ivan the Great Bell Tower is the tallest of the towers in the Moscow Kremlin complex, with a total height of . It was built in 1508 for the Russian Orthodox cathedrals in Cathedral Square, namely the Assumption, Archangel and Annunciation cathedrals, which do not have their own belfries...
in 1600.
The original building, known as "Trinity Church" and later "Trinity Cathedral", contained eight side churches arranged around the ninth, central church of Intercession; the tenth church was erected in 1588 over the grave of venerated local saint Vasily (Basil).