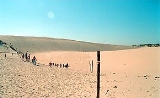 Słowiński National Park
Słowiński National Park
is a
National Park
in
Pomeranian Voivodeship
Pomeranian Voivodeship
Pomeranian Voivodeship, or Pomerania Province , is a voivodeship, or province, in north-central Poland. It comprises most of Pomerelia , as well as an area east of the Vistula River...
, northern
Poland
Poland
Poland , officially the Republic of Poland , is a country in Central Europe bordered by Germany to the west; the Czech Republic and Slovakia to the south; Ukraine, Belarus and Lithuania to the east; and the Baltic Sea and Kaliningrad Oblast, a Russian exclave, to the north...
. It is situated on the
Baltic
Baltic Sea
The Baltic Sea is a brackish mediterranean sea located in Northern Europe, from 53°N to 66°N latitude and from 20°E to 26°E longitude. It is bounded by the Scandinavian Peninsula, the mainland of Europe, and the Danish islands. It drains into the Kattegat by way of the Øresund, the Great Belt and...
coast, between Łeba and
Rowy
Rowy
Rowy may refer to the following places in Poland:*Rowy, Łódź Voivodeship *Rowy, Pomeranian Voivodeship *Rowy, Podlaskie Voivodeship *Rowy, Garwolin County in Masovian Voivodeship...
. The northern boundary of the Park consists of 32.5 kilometres (20.2 mi) of coastline.
History
The original idea of creating a preserve here came out in 1946, at a conference in Łeba with scientists from
Poznań
Poznan
Poznań is a city on the Warta river in west-central Poland, with a population of 556,022 in June 2009. It is among the oldest cities in Poland, and was one of the most important centres in the early Polish state, whose first rulers were buried at Poznań's cathedral. It is sometimes claimed to be...
and
Gdańsk
Gdansk
Gdańsk is a Polish city on the Baltic coast, at the centre of the country's fourth-largest metropolitan area.The city lies on the southern edge of Gdańsk Bay , in a conurbation with the city of Gdynia, spa town of Sopot, and suburban communities, which together form a metropolitan area called the...
. The park however was created 21 years later, in 1967, on an area of 180.69 km². Today it is slightly larger, covering 186.18 km² (71.9 sq mi), of which 102.13 km² consists of waters and 45.99 km² of forests. The strictly preserved zone covers 56.19 km². In 1977
UNESCO
UNESCO
The United Nations Educational, Scientific and Cultural Organization is a specialized agency of the United Nations...
designated the Park a
biosphere reserve
Biosphere reserve
The Man and the Biosphere Programme of UNESCO was established in 1971 to promote interdisciplinary approaches to management, research and education in ecosystem conservation and sustainable use of natural resources.-Development:...
under its Programme on Man and the Biosphere (MaB). The Słowiński wetlands were designated a
Ramsar
Ramsar Convention
The Ramsar Convention is an international treaty for the conservation and sustainable utilization of wetlands, i.e., to stem the progressive encroachment on and loss of wetlands now and in the future, recognizing the fundamental ecological functions of wetlands and their economic, cultural,...
site in 1995.
The Park is named after the
Slavic
Slavic peoples
The Slavic people are an Indo-European panethnicity living in Eastern Europe, Southeast Europe, North Asia and Central Asia. The term Slavic represents a broad ethno-linguistic group of people, who speak languages belonging to the Slavic language family and share, to varying degrees, certain...
(later Germanized) people known as the Slovincians , who used to live in this
swamp
Swamp
A swamp is a wetland with some flooding of large areas of land by shallow bodies of water. A swamp generally has a large number of hammocks, or dry-land protrusions, covered by aquatic vegetation, or vegetation that tolerates periodical inundation. The two main types of swamp are "true" or swamp...
y, inaccessible area at the edge of Lake Leba. In the village of
Kluki
Kluki
Kluki may refer to the following places:*Kluki, Łódź Voivodeship *Kluki, Gmina Kałuszyn in Masovian Voivodeship *Kluki, Gmina Mińsk Mazowiecki in Masovian Voivodeship...
there is an open air museum presenting aspects of this people's former life and culture.
Geography
In the past, the park's area was a
Baltic Sea
Baltic Sea
The Baltic Sea is a brackish mediterranean sea located in Northern Europe, from 53°N to 66°N latitude and from 20°E to 26°E longitude. It is bounded by the Scandinavian Peninsula, the mainland of Europe, and the Danish islands. It drains into the Kattegat by way of the Øresund, the Great Belt and...
bay
Bay
A bay is an area of water mostly surrounded by land. Bays generally have calmer waters than the surrounding sea, due to the surrounding land blocking some waves and often reducing winds. Bays also exist as an inlet in a lake or pond. A large bay may be called a gulf, a sea, a sound, or a bight...
. The sea's activity, however, created sand dunes which in the course of time separated the bay from the Baltic Sea. As waves and wind carry sand inland the dunes slowly move, at a speed of 3 to 10 meters per year. Some dunes are quite high - up to 30 meters. The highest peak of the Park – Rowokol (115 meters above sea level) – is also an excellent observation point. The "moving dunes" are regarded as a curiosity of nature on a European scale.
Waters, which occupy 55% of Park's area, are made up of lakes - Łebsko (71.40 km², maximum depth 6.3 m), Gardno (24.68 km², maximum depth 2.6 m) and Dolgie Wielkie (1.46 km², maximum depth 2.9 m). Both Lebsko and Gardno lakes were previously bays. There are also 7 rivers crossing the Park, the largest being the Łeba and the Łupawa.
Forests in the Park are mainly made of
pine
Pine
Pines are trees in the genus Pinus ,in the family Pinaceae. They make up the monotypic subfamily Pinoideae. There are about 115 species of pine, although different authorities accept between 105 and 125 species.-Etymology:...
s. These trees cover 80% of wooded areas, there are also
peat
Peat
Peat is an accumulation of partially decayed vegetation matter or histosol. Peat forms in wetland bogs, moors, muskegs, pocosins, mires, and peat swamp forests. Peat is harvested as an important source of fuel in certain parts of the world...
bog
Bog
A bog, quagmire or mire is a wetland that accumulates acidic peat, a deposit of dead plant material—often mosses or, in Arctic climates, lichens....
s of several types. Of animals, most numerous are birds with 257 species. This is because Park is located on the paths of migrating birds. They feel safe here because human activities are limited. The most interesting species are:
erne
White-tailed Eagle
The White-tailed Eagle , also known as the Sea Eagle, Erne , or White-tailed Sea-eagle, is a large bird of prey in the family Accipitridae which includes other raptors such as hawks, kites, and harriers...
, eagle owl,
crow
Crow
Crows form the genus Corvus in the family Corvidae. Ranging in size from the relatively small pigeon-size jackdaws to the Common Raven of the Holarctic region and Thick-billed Raven of the highlands of Ethiopia, the 40 or so members of this genus occur on all temperate continents and several...
,
swan
Swan
Swans, genus Cygnus, are birds of the family Anatidae, which also includes geese and ducks. Swans are grouped with the closely related geese in the subfamily Anserinae where they form the tribe Cygnini. Sometimes, they are considered a distinct subfamily, Cygninae...
and various kinds of
duck
Duck
Duck is the common name for a large number of species in the Anatidae family of birds, which also includes swans and geese. The ducks are divided among several subfamilies in the Anatidae family; they do not represent a monophyletic group but a form taxon, since swans and geese are not considered...
s. Among
mammal
Mammal
Mammals are members of a class of air-breathing vertebrate animals characterised by the possession of endothermy, hair, three middle ear bones, and mammary glands functional in mothers with young...
s, one has to point out
deer
Deer
Deer are the ruminant mammals forming the family Cervidae. Species in the Cervidae family include white-tailed deer, elk, moose, red deer, reindeer, fallow deer, roe deer and chital. Male deer of all species and female reindeer grow and shed new antlers each year...
,
elk
Elk
The Elk is the large deer, also called Cervus canadensis or wapiti, of North America and eastern Asia.Elk may also refer to:Other antlered mammals:...
, wild pig and
hare
Hare
Hares and jackrabbits are leporids belonging to the genus Lepus. Hares less than one year old are called leverets. Four species commonly known as types of hare are classified outside of Lepus: the hispid hare , and three species known as red rock hares .Hares are very fast-moving...
.
Tourist amenities
There are around 140 kilometers of walking tourist trails. By the lakes there are some observation towers and along the trails one can find benches and resting places. Around the park there are many parking sites as well as hotels and camp sites, especially in Łeba.
External links