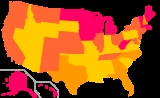 Roper v. Simmons
Roper v. Simmons
, was a decision in which the
Supreme Court of the United States
Supreme Court of the United States
The Supreme Court of the United States is the highest court in the United States. It has ultimate appellate jurisdiction over all state and federal courts, and original jurisdiction over a small range of cases...
held that it is unconstitutional to impose
capital punishment
Capital punishment
Capital punishment, the death penalty, or execution is the sentence of death upon a person by the state as a punishment for an offence. Crimes that can result in a death penalty are known as capital crimes or capital offences. The term capital originates from the Latin capitalis, literally...
for crimes committed while under the age of 18. The 5-4 decision overruled the Court's prior ruling upholding such sentences on offenders above or at the age of 16, in
Stanford v. Kentucky
Stanford v. Kentucky
Stanford v. Kentucky, , was a United States Supreme Court case that sanctioned the imposition of the death penalty on offenders who were at least 16 years of age at the time of the crime. This decision came one year after Thompson v...
, 492 U.S. 361 (1989), overturning statutes in 25 states that had the penalty set lower.
This case, in
Missouri
Missouri
Missouri is a US state located in the Midwestern United States, bordered by Iowa, Illinois, Kentucky, Tennessee, Arkansas, Oklahoma, Kansas and Nebraska. With a 2010 population of 5,988,927, Missouri is the 18th most populous state in the nation and the fifth most populous in the Midwest. It...
, involved Christopher Simmons, who, in 1993 at the age of 17, concocted a plan to murder Shirley Crook, bringing two younger friends, Charles Benjamin and John Tessmer, into the plot.