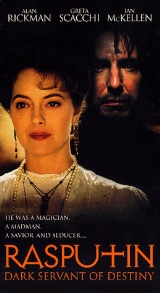 Rasputin: Dark Servant of Destiny
Rasputin: Dark Servant of Destiny
is a biographical 1996 TV film about Rasputin.
Awards
Rasputin: Dark Servant of Destiny
won a Golden Globe for Best Mini-Series or Motion Picture made for TV.
Alan Rickman
Alan Rickman
Alan Sidney Patrick Rickman is an English actor and theatre director. He is a renowned stage actor in modern and classical productions and a former member of the Royal Shakespeare Company...
, starring as
Rasputin
Grigori Rasputin
Grigori Yefimovich Rasputin was a Russian Orthodox Christian and mystic who is perceived as having influenced the latter days of the Russian Emperor Nicholas II, his wife Alexandra, and their only son Alexei...
, won an Emmy (along with
Greta Scacchi
Greta Scacchi
Greta Scacchi is an Italian-Australian actor.-Early life:Scacchi was born Greta Gracco in Milan, Italy, on 18 February 1960, the daughter of Luca Scacchi Gracco, an Italian art dealer and painter, and Pamela Carsaniga, an English dancer and antiques dealer...
playing Tsarina Alexandra) and a Golden Globe for his work in this movie.
Ian McKellen
Ian McKellen
Sir Ian Murray McKellen, CH, CBE is an English actor. He has received a Tony Award, two Academy Award nominations, and five Emmy Award nominations. His work has spanned genres from Shakespearean and modern theatre to popular fantasy and science fiction...
, playing
Tsar Nicholas II
Nicholas II of Russia
Nicholas II was the last Emperor of Russia, Grand Prince of Finland, and titular King of Poland. His official short title was Nicholas II, Emperor and Autocrat of All the Russias and he is known as Saint Nicholas the Passion-Bearer by the Russian Orthodox Church.Nicholas II ruled from 1894 until...
, won a Golden Globe for Best Supporting Actor, and was nominated an Emmy for Best Supporting Actor.
Cast
Alan Rickman

Alan Rickman

Alan Sidney Patrick Rickman is an English actor and theatre director. He is a renowned stage actor in modern and classical productions and a former member of the Royal Shakespeare Company...


- Grigori Rasputin

Grigori Rasputin

Grigori Yefimovich Rasputin was a Russian Orthodox Christian and mystic who is perceived as having influenced the latter days of the Russian Emperor Nicholas II, his wife Alexandra, and their only son Alexei...



Greta Scacchi

Greta Scacchi

Greta Scacchi is an Italian-Australian actor.-Early life:Scacchi was born Greta Gracco in Milan, Italy, on 18 February 1960, the daughter of Luca Scacchi Gracco, an Italian art dealer and painter, and Pamela Carsaniga, an English dancer and antiques dealer...


- Tsarina Alexandra
Ian McKellen

Ian McKellen

Sir Ian Murray McKellen, CH, CBE is an English actor. He has received a Tony Award, two Academy Award nominations, and five Emmy Award nominations. His work has spanned genres from Shakespearean and modern theatre to popular fantasy and science fiction...


- Tsar Nicholas II
David Warner

David Warner (actor)

David Warner is an English actor who is known for playing both romantic leads and sinister or villainous characters, both in film and animation...


- Dr. Botkin

Eugene Botkin

Yevgeny Sergeyevich Botkin was the court physician for Tsar Nicholas II and Tsarina Alexandra and, while in exile with the family, sometimes treated the hemophilia-related complications of the Tsarevich Alexei Nikolaevich of Russia.Botkin went into exile with the Romanovs following the Russian...



John Wood

John Wood (English actor)

John Wood, CBE was an English actor.-Biography:Wood was born in Derbyshire and studied law at Jesus College, Oxford where he was president of the Oxford University Dramatic Society. Changing to drama, Wood became known as a stage actor, appearing in numerous West End productions as well as on...


- Prime Minister Stolypin

Pyotr Stolypin

Pyotr Arkadyevich Stolypin served as the leader of the 3rd DUMA—from 1906 to 1911. His tenure was marked by efforts to repress revolutionary groups, as well as for the institution of noteworthy agrarian reforms. Stolypin hoped, through his reforms, to stem peasant unrest by creating a class of...



James Frain

James Frain

James Dominic Frain is an English stage and screen actor. He is possibly best known for his role in the Showtime series The Tudors in which he appeared as Thomas Cromwell from 2007 to 2009, and for his role as vampire Franklin Mott in season three of the HBO drama True Blood, as well as his role...


- Prince Felix Yusupov
Ian Hogg

Ian Hogg (actor)

Ian Hogg is a British actor.- Early life :He is the son of a doctor and was educated at Durham School, Durham University and the Central School of Speech and Drama...


- Purishkevich
Sheila Ruskin

Sheila Ruskin

Sheila Ruskin is an English actress.She is possibly best known for playing Vipsania in the 1976 BBC adaptation of I, Claudius but is also remembered by fans of Doctor Who for her performance as Kassia in the 1981 serial The Keeper of Traken, and by Blake's 7 fans as Alta 1 in the 1979 episode...


- Princess Marisa
Peter Jeffrey

Peter Jeffrey

Peter Jeffrey was a British actor with many roles in television and film.Jeffrey was born in Bristol, the son of Florence Alice and Arthur Winfred Gilbert Jeffrey. He was educated at Harrow School and Pembroke College, Cambridge but had no formal training as an actor...


- Bishop Hermogones

Hermogenes, Bishop of Tobolsk and Siberia

Saint martyr Hermogenes, Bishop of Tobolsk and Siberia ; 1858-1918) was a prominent Russian Orthodox religious figure. Influenced by Nicanor, Bishop of Kherson, he chose the Orthodox ministry after finishing the Novorossiysk University. Following his education in Saint Petersburg Theological...



Freddie Findlay - Alexei Nikolaevich, Tsarevich of Russia
Julian Curry

Julian Curry

Julian Curry is a British actor best known for playing Claude Erskine-Browne in ITV's comedy-drama Rumpole of the Bailey....


- Dr. Lazovert
External links