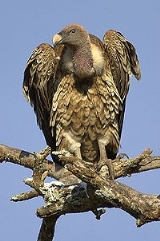 Rüppell's Vulture
Rüppell's Vulture
is a large
vulture
Vulture
Vulture is the name given to two groups of convergently evolved scavenging birds, the New World Vultures including the well-known Californian and Andean Condors, and the Old World Vultures including the birds which are seen scavenging on carcasses of dead animals on African plains...
that occurs throughout the
Sahel region
Sahel Region
Sahel is one of Burkina Faso's 13 administrative regions. It was created on 2 July 2001 and had a population of 808,928 in 2006. The region's capital is Dori. Four provinces make up the region - Oudalan, Séno, Soum, and Yagha....
of central Africa. The current population of 30,000 is in decline due to ongoing loss of habitat and other pressures. Also known as Rüppell's Griffon, Rueppell's Griffon, Rüppell's Griffin Vulture, Rueppell's Vulture and other variants, Rüppell's Vulture is named in honor of
Eduard Rüppell
Eduard Rüppell
Wilhelm Peter Eduard Simon Rüppell was a German naturalist and explorer. Rüppell is occasionally transliterated to "Rueppell" for the English alphabet....
, a 19th-century German explorer, collector and zoologist. Rüppell's Vulture is considered to be the world's highest-flying bird, with confirmed evidence of a flight at an altitude of 11000 metres (36,089.2 ft) above
sea level
Sea level
Mean sea level is a measure of the average height of the ocean's surface ; used as a standard in reckoning land elevation...
.
Description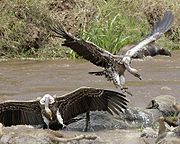 Adults are 85–107 cm (34–42 in) long, with a wingspan of 2.26 to 2.6 m (7.4 to 8.5 ft), and a weight that ranges from 6.4 to 9 kg (14.1 to 19.8 lb). Both sexes are alike: mottled brown or black overall with a whitish-brown underbelly and thin, dirty-white fluff covering the head and neck. The base of the neck has a white collar, the eye is yellow or amber, the crop patch deep chocolate-brown. Silent as a rule, they become vocal at the nest and when at a carcass, squealing a great deal.
Ecology
Rüppell's Vultures are highly social, roosting, nesting, and gathering to feed in large flocks. They can travel fast at need, cruising at up to 35 kilometres per hour (21.7 mph), and will fly as far as 150 kilometres (93.2 mi) from a nest site to find food.
Rüppell's Vultures commonly fly at altitudes ranging up to 6000 metres (19,685 ft). The birds have a specialized variant of the
hemoglobin
Hemoglobin
Hemoglobin is the iron-containing oxygen-transport metalloprotein in the red blood cells of all vertebrates, with the exception of the fish family Channichthyidae, as well as the tissues of some invertebrates...
alpha
D
subunit; this protein has a high affinity for oxygen, which allows the species to take up oxygen efficiently despite the low
partial pressure
Partial pressure
In a mixture of ideal gases, each gas has a partial pressure which is the pressure which the gas would have if it alone occupied the volume. The total pressure of a gas mixture is the sum of the partial pressures of each individual gas in the mixture....
in the upper
troposphere
Troposphere
The troposphere is the lowest portion of Earth's atmosphere. It contains approximately 80% of the atmosphere's mass and 99% of its water vapor and aerosols....
. A Rüppell's Vulture was confirmed to have been ingested by a jet engine of an airplane flying over
Abidjan
Abidjan
Abidjan is the economic and former official capital of Côte d'Ivoire, while the current capital is Yamoussoukro. it was the largest city in the nation and the third-largest French-speaking city in the world, after Paris, and Kinshasa but before Montreal...
,
Côte d'Ivoire
Côte d'Ivoire
The Republic of Côte d'Ivoire or Ivory Coast is a country in West Africa. It has an area of , and borders the countries Liberia, Guinea, Mali, Burkina Faso and Ghana; its southern boundary is along the Gulf of Guinea. The country's population was 15,366,672 in 1998 and was estimated to be...
on November 29, 1973 at an altitude of 11000 metres (36,089.2 ft). In August 2010 a Rüppell's Vulture escaped a bird of prey site in
Scotland
Scotland
Scotland is a country that is part of the United Kingdom. Occupying the northern third of the island of Great Britain, it shares a border with England to the south and is bounded by the North Sea to the east, the Atlantic Ocean to the north and west, and the North Channel and Irish Sea to the...
, prompting warnings to pilots in the area to keep an eye out due to the danger of collision.
Rüppell's Vultures are creatures of the more
arid
Arid
A region is said to be arid when it is characterized by a severe lack of available water, to the extent of hindering or even preventing the growth and development of plant and animal life...
and mountainous areas of Africa: particularly semi-desert and the fringes of deserts. They roost on inaccessible rock ledges if these are available, or in trees, usually
Acacia
Acacia
Acacia is a genus of shrubs and trees belonging to the subfamily Mimosoideae of the family Fabaceae, first described in Africa by the Swedish botanist Carl Linnaeus in 1773. Many non-Australian species tend to be thorny, whereas the majority of Australian acacias are not...
. When
thermal
Thermal
A thermal column is a column of rising air in the lower altitudes of the Earth's atmosphere. Thermals are created by the uneven heating of the Earth's surface from solar radiation, and are an example of convection. The sun warms the ground, which in turn warms the air directly above it...
updrafts start to develop enough lift, about two hours after sunrise, Rüppell's Vultures leave the roost and begin to patrol over the plains, using their exceptionally keen eyesight to find large animal carcasses, or
carnivore
Carnivore
A carnivore meaning 'meat eater' is an organism that derives its energy and nutrient requirements from a diet consisting mainly or exclusively of animal tissue, whether through predation or scavenging...
s which have made a kill. They will wait, several days if necessary, until a carnivore leaves a carcass. They have been known to take live prey on occasion, but this is rare.
Rüppell's Vultures have several adaptations to their diet and are specialized feeders even among the Old World vultures of Africa. They have an especially powerful bill and, after the most attractive soft parts of a carcass have been consumed, they will continue with the hide, and even the bones, gorging themselves until they can barely fly. They have backward-facing spines on the tongue to help remove meat from bone.
Status
Since first being assessed by the International Union for Conservation of Nature in 1998, populations of Rüppell's Vulture have declined. The species has been listed with an
IUCN Red List
IUCN Red List
The IUCN Red List of Threatened Species , founded in 1963, is the world's most comprehensive inventory of the global conservation status of biological species. The International Union for Conservation of Nature is the world's main authority on the conservation status of species...
status of "near threatened" since 2007 and the IUCN predicts that populations of the species will continue to decline.