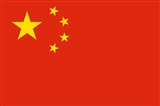 People's Republic of China
China
officially the
People's Republic of China
(
PRC
), is the
most populous
country
Country
A country is a region legally identified as a distinct entity in political geography. A country may be an independent sovereign state or one that is occupied by another state, as a non-sovereign or formerly sovereign political division, or a geographic region associated with a previously...
in the world, with over 1.3 billion citizens. Located in
East Asia
East Asia
East Asia or Eastern Asia is a subregion of Asia that can be defined in either geographical or cultural terms...
, the country covers approximately 9.6 million square kilometres (3.7 million square miles). It is the world's
second-largest country by land area
, and the
third- or fourth-largest in total area
, depending on the definition of total area.
The People's Republic of China is a
single-party state
Single-party state
A single-party state, one-party system or single-party system is a type of party system government in which a single political party forms the government and no other parties are permitted to run candidates for election...
governed by the
Communist Party of China
Communist Party of China
The Communist Party of China , also known as the Chinese Communist Party , is the founding and ruling political party of the People's Republic of China...
(CPC).
781 BC The first historic solar eclipse is recorded in China.
202 BC coronation ceremony of Liu Bang as Emperor Gaozu of Han takes place, initiating four centuries of the Han Dynasty's rule over China
141 BC Liu Che, posthumously known as Emperor Wu of Han, assumes the throne over the Han Dynasty of China.
221 Liu Bei, a Chinese warlord and member of the Han royal house, declares himself emperor of Shu-Han and claims his legitimate succession to the Han Dynasty.
607 Ono no Imoko is dispatched as envoy to the Sui court in China (Traditional Japanese date: July 3, 607).
618 Li Yuan becomes Emperor Gaozu of Tang, initiating three centuries of Tang Dynasty rule over China.
626 Li Shimin, posthumously known as Emperor Taizong of Tang, assumes the throne over the Tang Dynasty of China.
631 Emperor Taizong of Tang, the Emperor of China, sends envoys to the Xueyantuo bearing gold and silk in order to seek the release of enslaved Chinese prisoners captured during the transition from Sui to Tang from the northern frontier; this embassy succeeded in freeing 80,000 Chinese men and women who were then returned to China.
706 In China, Emperor Zhongzong of Tang inters the bodies of relatives in the Qianling Mausoleum, located on Mount Liang outside Chang'an.
755 An Lushan revolts against Chancellor Yang Guozhong at Fanyang, initiating the An Shi Rebellion during the Tang Dynasty of China.
960 The coronation of Zhao Kuangyin as Emperor Taizu of Song, initiating the Song Dynasty period of China that would last more than three centuries.
971 In China, the war elephant corps of the Southern Han are soundly defeated at Shao by crossbow fire from Song Dynasty troops.
1126 Emperor Huizong abdicates the Chinese throne in favour of his son Emperor Qinzong.