 Pedro de Arbués
Pedro de Arbués
was an official of the
Spanish Inquisition
Spanish Inquisition
The Tribunal of the Holy Office of the Inquisition , commonly known as the Spanish Inquisition , was a tribunal established in 1480 by Catholic Monarchs Ferdinand II of Aragon and Isabella I of Castile. It was intended to maintain Catholic orthodoxy in their kingdoms, and to replace the Medieval...
who was
assassinated
Assassination
To carry out an assassination is "to murder by a sudden and/or secret attack, often for political reasons." Alternatively, assassination may be defined as "the act of deliberately killing someone, especially a public figure, usually for hire or for political reasons."An assassination may be...
in the Zaragoza Cathedral in 1485 in an alleged plot by
converso
Converso
A converso and its feminine form conversa was a Jew or Muslim—or a descendant of Jews or Muslims—who converted to Catholicism in Spain or Portugal, particularly during the 14th and 15th centuries. Mass conversions once took place under significant government pressure...
s and Jews. He was very quickly venerated as a
saint
Saint
A saint is a holy person. In various religions, saints are people who are believed to have exceptional holiness.In Christian usage, "saint" refers to any believer who is "in Christ", and in whom Christ dwells, whether in heaven or in earth...
by popular acclaim, and his death greatly assisted the Inquisition and its Inquisitor General,
Tomás de Torquemada
Tomás de Torquemada
Tomás de Torquemada, O.P. was a fifteenth century Spanish Dominican friar, first Inquisitor General of Spain, and confessor to Isabella I of Castile. He was described by the Spanish chronicler Sebastián de Olmedo as "The hammer of heretics, the light of Spain, the saviour of his country, the...
, in their campaign against
heresy
Heresy
Heresy is a controversial or novel change to a system of beliefs, especially a religion, that conflicts with established dogma. It is distinct from apostasy, which is the formal denunciation of one's religion, principles or cause, and blasphemy, which is irreverence toward religion...
and
crypto-Judaism
Crypto-Judaism
Crypto-Judaism is the secret adherence to Judaism while publicly professing to be of another faith; practitioners are referred to as "crypto-Jews"...
.
Arbués was canonized by
Pope Pius IX
Pope Pius IX
Blessed Pope Pius IX , born Giovanni Maria Mastai-Ferretti, was the longest-reigning elected Pope in the history of the Catholic Church, serving from 16 June 1846 until his death, a period of nearly 32 years. During his pontificate, he convened the First Vatican Council in 1869, which decreed papal...
in 1867.
Life
His father, a nobleman, was Antonio de Arbués, and his mother's name was Sancia Ruiz. He studied
philosophy
Philosophy
Philosophy is the study of general and fundamental problems, such as those connected with existence, knowledge, values, reason, mind, and language. Philosophy is distinguished from other ways of addressing such problems by its critical, generally systematic approach and its reliance on rational...
, probably at
Huesca
Huesca
Huesca is a city in north-eastern Spain, within the autonomous community of Aragon. It is also the capital of the Spanish province of the same name and the comarca of Hoya de Huesca....
, but later went to
Bologna
Bologna
Bologna is the capital city of Emilia-Romagna, in the Po Valley of Northern Italy. The city lies between the Po River and the Apennine Mountains, more specifically, between the Reno River and the Savena River. Bologna is a lively and cosmopolitan Italian college city, with spectacular history,...
, where in the Spanish college of St. Clement he was regarded as a model of learning and
piety
Piety
In spiritual terminology, piety is a virtue that can mean religious devotion, spirituality, or a combination of both. A common element in most conceptions of piety is humility.- Etymology :...
, and was graduated in
theology
Theology
Theology is the systematic and rational study of religion and its influences and of the nature of religious truths, or the learned profession acquired by completing specialized training in religious studies, usually at a university or school of divinity or seminary.-Definition:Augustine of Hippo...
and
law
Law
Law is a system of rules and guidelines which are enforced through social institutions to govern behavior, wherever possible. It shapes politics, economics and society in numerous ways and serves as a social mediator of relations between people. Contract law regulates everything from buying a bus...
. Returning to
Spain
Spain
Spain , officially the Kingdom of Spain languages]] under the European Charter for Regional or Minority Languages. In each of these, Spain's official name is as follows:;;;;;;), is a country and member state of the European Union located in southwestern Europe on the Iberian Peninsula...
he became a canon regular at
Zaragoza
Zaragoza
Zaragoza , also called Saragossa in English, is the capital city of the Zaragoza Province and of the autonomous community of Aragon, Spain...
, where he made his religious profession in 1474. About that time Ferdinand and Isabella had obtained from
Pope Sixtus IV
Pope Sixtus IV
Pope Sixtus IV , born Francesco della Rovere, was Pope from 1471 to 1484. His accomplishments as Pope included the establishment of the Sistine Chapel; the group of artists that he brought together introduced the Early Renaissance into Rome with the first masterpiece of the city's new artistic age,...
a
papal bull
Papal bull
A Papal bull is a particular type of letters patent or charter issued by a Pope of the Catholic Church. It is named after the bulla that was appended to the end in order to authenticate it....
to establish in their kingdom a tribunal for searching out heretics, and especially Jews who after having received baptism had relapsed openly or secretly into Judaism; these were known as Marranos. Torquemada, in 1483, was appointed grand inquisitor over Castile and named Arbués inquisitor provincial in the
Kingdom of Aragon
Kingdom of Aragon
The Kingdom of Aragon was a medieval and early modern kingdom in the Iberian Peninsula, corresponding to the modern-day autonomous community of Aragon, in Spain...
(1484).
On September 14, 1485, he was assassinated in the cathedral as he was praying while wearing a
helmet
Helmet
A helmet is a form of protective gear worn on the head to protect it from injuries.Ceremonial or symbolic helmets without protective function are sometimes used. The oldest known use of helmets was by Assyrian soldiers in 900BC, who wore thick leather or bronze helmets to protect the head from...
and
chain mail
Chain Mail
"Chain Mail" is a single by Mancunian band James, released in March 1986 by Sire Records, the first after the band defected from Factory Records. The record was released in two different versions, as 7" single and 12" EP, with different artworks by John Carroll and, confusingly, under different...
. This was the consequence of the bad reception that the Inquisition had in Aragón, where it was seen as an attack by the crown on the fueros, the local laws and privileges. In particular, it appears that some of the most powerful families among the converted Jews - such as the Sánchez, Montesa, Paternoy, and Santángel families - considered themselves favorite victims of the Inquisition, and were implicated in the assassination. As a consequence, there arose a popular movement against the Jews; "nine were finally executed in persona, in addition to two suicides, thirteen burnings at the stake, and four punished for complicity" according to the account of Jerónimo Zurita.
Veneration as a Saint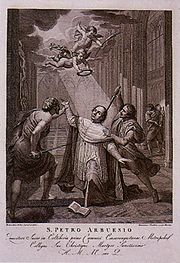 Arbués' canonization remains controversial. In 2001,
Garry Wills
Garry Wills
Garry Wills is a Pulitzer Prize-winning and prolific author, journalist, and historian, specializing in American politics, American political history and ideology and the Roman Catholic Church. Classically trained at a Jesuit high school and two universities, he is proficient in Greek and Latin...
, questioning Pius IX's motives, wrote: "In 1867, he canonized Peter Arbues, a 15th-century inquisitor famed for forcible conversion of Jews, and said in the canonization document,
The divine wisdom has arranged that in these sad days, when Jews help the enemies of the church with their books and money, this decree of sanctity has been brought to fulfillment.
"
However, of Pedro, the
Catholic Encyclopedia
Catholic Encyclopedia
The Catholic Encyclopedia, also referred to as the Old Catholic Encyclopedia and the Original Catholic Encyclopedia, is an English-language encyclopedia published in the United States. The first volume appeared in March 1907 and the last three volumes appeared in 1912, followed by a master index...
states: "Peter performed the duties with zeal and justice. Although the enemies of the Inquisition accuse him of cruelty, it is certain that not a single sentence of death can be traced to him... The Marranos, however, whom he had punished hated and resolved to do away with him. One night while kneeling in prayer before the
altar of Our Lady
Altar of Our Lady
In a Roman Catholic church, after the main or principal altar, the most prominent is that the altar of Our Lady.It is dedicated in a special manner to the Blessed Virgin Mary, Mother of God. To indicate this specific preference, this altar is usually placed in the most prominent position in the...
in the metropolitan church, where he used to recite the office with his brother canons, they attacked him, and hired assassins inflicted several wounds from which he died two days after."
Leonardo Sciascia
Leonardo Sciascia
Leonardo Sciascia was an Italian writer, novelist, essayist, playwright and politician. Some of his works have been made into films, including Open Doors and Il giorno della civetta .- Biography :Sciascia was born in Racalmuto, Sicily...
in
Morte dell'inquisitore
(1967) writes that Arbues, along with Juan Lopez Cisneros (d. 1657), are "the only two cases of inquisitors who died assassinated".