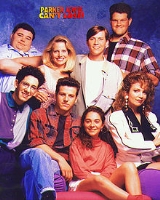 Parker Lewis Can't Lose
Parker Lewis Can't Lose
is an
American
United States
The United States of America is a federal constitutional republic comprising fifty states and a federal district...
teen sitcom
Teen sitcom
A teen situation comedy, or teen sitcom, is a television programming genre. Like teen dramas, this genre was also generally non-existent during the first 30 years of television...
that originally aired on
FOX
Fox Broadcasting Company
Fox Broadcasting Company, commonly referred to as Fox Network or simply Fox , is an American commercial broadcasting television network owned by Fox Entertainment Group, part of Rupert Murdoch's News Corporation. Launched on October 9, 1986, Fox was the highest-rated broadcast network in the...
from September 1990 to June 1993. During the last season, the series sported the simpler title Parker Lewis. The series was produced by
Columbia Pictures Television
Columbia Pictures Television
Columbia Pictures Television was the second name of the Columbia Pictures television division Screen Gems . The studio changed its name on September 4, 1974.-1974-1982:...
and was strongly influenced by the feature film
Ferris Bueller's Day Off
Ferris Bueller's Day Off
Ferris Bueller's Day Off is a 1986 American teen coming-of-age comedy film written and directed by John Hughes.The film follows high school senior Ferris Bueller , who decides to skip school and spend the day in downtown Chicago...
. The film's TV spinoff
Ferris Bueller
Ferris Bueller (TV series)
Ferris Bueller is an American sitcom based on the 1986 John Hughes's film Ferris Bueller's Day Off. It debuted on August 23, 1990, on NBC and was cancelled within its first season, a few months after its debut....
debuted on
NBC
NBC
The National Broadcasting Company is an American commercial broadcasting television network and former radio network headquartered in the GE Building in New York City's Rockefeller Center with additional major offices near Los Angeles and in Chicago...
during the same month as Parker Lewis, but it only lasted 13 episodes.
The series depicts the tribulations of the title character
Parker Lewis
, a Santo Domingo
High School
High school
High school is a term used in parts of the English speaking world to describe institutions which provide all or part of secondary education. The term is often incorporated into the name of such institutions....
student, for whom nothing is impossible.
"Coolness, Park."

"...Gentlemen, we have achieved coolness!..."

"Synchronize Swatch|Swatches!" (In one episode, Parker's father reunites with his high school buddies at a class reunion, and they "synchronize Bulova|Bulovas.")

"Not a problem."

"Eat now?"

"It's a power thing..."

"Mental note ..."

"But, in a bad way." (E.g., when Kube states "I'm so hungry I could eat a horse! But, in a bad way.")

"Gentelmen, it's operation ..." (E.g. it's operation "low-fat Larry", it changes with each episode")

"Eeeeeck!!" (said by Jerry every time he meets Ms.Musso or Larry Kubiac, in one episode he sentence "I hate when I do that")