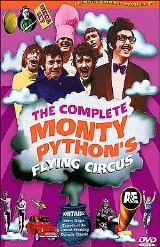 Monty Python's Flying Circus
Monty Python's Flying Circus
(known during the final series as just
Monty Python
) is a BBC TV
sketch comedy
Sketch comedy
A sketch comedy consists of a series of short comedy scenes or vignettes, called "sketches," commonly between one and ten minutes long. Such sketches are performed by a group of comic actors or comedians, either on stage or through an audio and/or visual medium such as broadcasting...
series. The shows were composed of
surreality
Surreal humour
Surreal humour is a form of humour based on violations of causal reasoning with events and behaviours that are logically incongruent. Constructions of surreal humour involve bizarre juxtapositions, non-sequiturs, irrational situations, and/or expressions of nonsense.The humour arises from a...
, risqué or innuendo-laden humour,
sight gags
Visual gag
In comedy, a visual gag or sight gag is anything which conveys its humor visually, often without words being used at all.There are numerous examples in cinema history of directors who based most of the humour in their films on visual gags, even to the point of using no or minimal dialogue...
and observational sketches without
punchlines
Punch line
A punch line is the final part of a joke, comedy sketch, or profound statement, usually the word, sentence or exchange of sentences which is intended to be funny or to provoke laughter or thought from listeners...
. It also featured
Terry Gilliam
Terry Gilliam
Terrence Vance "Terry" Gilliam is an American-born British screenwriter, film director, animator, actor and member of the Monty Python comedy troupe. Gilliam is also known for directing several films, including Brazil , The Adventures of Baron Munchausen , The Fisher King , and 12 Monkeys...
's animations, which are often sequenced or merged with live action.
The first episode was recorded on 7 September and broadcast on 5 October 1969 on BBC One, with 45 episodes airing over four series from 1969 to 1974, plus two episodes for German TV.
The show often targets the idiosyncrasies of
British life
Culture of the United Kingdom
The culture of the United Kingdom refers to the patterns of human activity and symbolism associated with the United Kingdom and its people. It is informed by the UK's history as a developed island country, major power, and its composition of four countries—England, Northern Ireland, Scotland and...
(especially that of professionals) and is at times politically charged.
"IT'S..." A hermit right before the opening titles

I like TITS!!! - The Dirty Vicar Sketch