 Milovan Glišic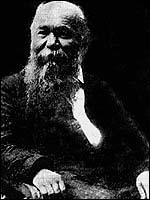 Milovan Glišić
was a
Serbia
Serbia
Serbia , officially the Republic of Serbia , is a landlocked country located at the crossroads of Central and Southeast Europe, covering the southern part of the Carpathian basin and the central part of the Balkans...
n writer, dramatist, translator, and literary theorist. He is sometimes referred to as
the Serbian Gogol
.
Biography
Glišić was born in the farming community of Gradac, near
Valjevo
Valjevo
Valjevo is a city and municipality located in western Serbia. It is the center of the Kolubara District, which includes five other smaller municipalities with a total population of almost 180,000 people...
, Serbia. He was educated at Belgrade's Grande École (now the
University of Belgrade
University of Belgrade
The University of Belgrade is the oldest and largest university of Serbia.Founded in 1808 as the Belgrade Higher School in revolutionary Serbia, by 1838 it merged with the Kragujevac-based departments into a single university...
), from which he graduated in 1875. During the Serbo-Turkish War of 1875 Glišić worked in the Press Bureau of the Foreign Ministry at Belgrade. After the death of poet-painter Đura Jakšić in 1878 he succeeded Jakšić as editor of the National Printing Press. He was also managing editor of
Srpskih Novina
(Serbian Newspapers) on two occasions. One of the many younger writers to whom as editor and critic Glišić gave encouragement was
Laza Lazarević
Laza Lazarevic
Laza K. Lazarević was a Serbian writer, psychiatrist, and neurologist. The primary interest of Lazarević throughout his short life was the science of medicine...
. While still in college, he met literary critic
Svetozar Marković
Svetozar Markovic
Svetozar Marković was an influential Serbian political activist and literary critic. He developed an activistic anthropological philosophy with a definite program of social change.-Early life:...
, who exerted an influence on him at the beginning of his career as a journalist and translator. From 1881 to 1898 he was the
dramaturge
Dramaturge
A dramaturge or dramaturg is a professional position within a theatre or opera company that deals mainly with research and development of plays or operas...
of the
National Theatre in Belgrade
National Theatre in Belgrade
The National Theatre was founded in the latter half of the 19th century. It is located on Republic Square, in Belgrade, Serbia.The National Theatre was declared a Monument of Culture of Great Importance in 1983, and it is protected by the Republic of Serbia....
(founded in 1868 by Jovan Đorđević). Under his leadership the theatre offered quality performances at popular prices and convenient times for the general public. In 1898, Milovan Glišić's increasing popularity, as an author and translator par excellence enabled him to retire from public service. Two years later (1900), however, he returned to take the post of director of Belgrade's
National Library of Serbia
National Library of Serbia
The National Library of Serbia is the national library of Serbia, located in the city of Belgrade, .-History:...
. For health reasons he went to
Dubrovnik
Dubrovnik
Dubrovnik is a Croatian city on the Adriatic Sea coast, positioned at the terminal end of the Isthmus of Dubrovnik. It is one of the most prominent tourist destinations on the Adriatic, a seaport and the centre of Dubrovnik-Neretva county. Its total population is 42,641...
, where he died, aged 61.
Literary Career
Glišić began his literary translations in satirical newspapers, and then went on to write original short stories. His original work includes two theater pieces,
Two Coins
and
Spoofing
and two collections of short stories. They include, among others, his most popular humorous and satirical stories:
Roga
,
Not About What
,
Pricker for Fire
,
Walk After Death,
An Ominous Number.
His best stories, however, are:
Glava secera
(A Lump of Sugar);
Redak zver
(A Rare Animal); and
Prva brazda
(The First Furrow).
Glišić specialized in translating from Russian and French literatures and in the 1880s he was looked upon as the best of the foreign language translators in Serbia, along with Ljubomir Miljković, his collaborator. Their collaboration followed by a series of editions of Russian classics and of books and articles on the history of Russian literature, which made him the most prominent Serbian authority on the subject. His studies in French contemporary literature were no less comprehensive, and included the valuable revisions of certain editions. As a conscientious and talented translator, and also a great connoisseur of living languages, he enabled writers in these languages, especially the
Russians
Russians
The Russian people are an East Slavic ethnic group native to Russia, speaking the Russian language and primarily living in Russia and neighboring countries....
and
Ukrainians
Ukrainians
Ukrainians are an East Slavic ethnic group native to Ukraine, which is the sixth-largest nation in Europe. The Constitution of Ukraine applies the term 'Ukrainians' to all its citizens...
, to exert a considerable influence on Serbian writers and poets (the same way he was influenced by Gogol). Due credit, indeed, must be given to him for familiarizing the Serbian reading audience with the great 19th Century Russian authors, and significantly influencing the development of his translations of literary language and style. The best and most important of his translations from Russian and Ukrainian are:
Dead Souls
Dead Souls
Dead Souls is a novel by Nikolai Gogol, first published in 1842, and widely regarded as an exemplar of 19th-century Russian literature. Gogol himself saw it as an "epic poem in prose", and within the book as a "novel in verse". Despite supposedly completing the trilogy's second part, Gogol...
and
Taras Bulba
Taras Bulba
Taras Bulba is a romanticized historical novel by Nikolai Gogol. It tells the story of an old Zaporozhian Cossack, Taras Bulba, and his two sons, Andriy and Ostap. Taras' sons studied at the Kiev Academy and return home...
by
Nikolai Gogol
Nikolai Gogol
Nikolai Vasilievich Gogol was a Ukrainian-born Russian dramatist and novelist.Considered by his contemporaries one of the preeminent figures of the natural school of Russian literary realism, later critics have found in Gogol's work a fundamentally romantic sensibility, with strains of Surrealism...
,
The Kreutzer Sonata
The Kreutzer Sonata
The Kreutzer Sonata is a novella by Leo Tolstoy, published in 1889 and promptly censored by the Russian authorities. The work is an argument for the ideal of sexual abstinence and an in-depth first-person description of jealous rage...
and
War and Peace
War and Peace
War and Peace is a novel by the Russian author Leo Tolstoy, first published in 1869. The work is epic in scale and is regarded as one of the most important works of world literature...
by
Leo Tolstoy
Leo Tolstoy
Lev Nikolayevich Tolstoy was a Russian writer who primarily wrote novels and short stories. Later in life, he also wrote plays and essays. His two most famous works, the novels War and Peace and Anna Karenina, are acknowledged as two of the greatest novels of all time and a pinnacle of realist...
,
Oblomov
by
Goncharov
Goncharov
Goncharov is a Russian surname shared by the following people:*Aleksandr Goncharov , Soviet Russian hockey player*Ivan Goncharov , Russian author*Natalya Goncharova, several people*Pyotr Goncharov , Russian composer...
, and other works by Alexander Ostrovsky, Ignatii Nikolaevich Potapenko,
Vladimir Nemirovich-Danchenko
Vladimir Nemirovich-Danchenko
Vladimir Ivanovich Nemirovich-Danchenko was a Georgian-born Russian theatre director, writer, pedagogue, playwright, producer and theatre organizer, who founded the Moscow Art Theatre with his colleague, Konstantin Stanislavsky, in 1898.-Biography:Vladimir Ivanovich Nemirovich-Danchenko was born...
, Alexander Pushkin, Marija Markov (also known as Marko Vovčuk),
Nikolai Schedrin
Nikolai Schedrin
Nikolay Pavlovich Schedrin was a Russian revolutionary and narodnik.Nikolay Schedrin graduated from a military gymnasium in Omsk. In 1876, he joined Zemlya i volya in St.Petersburg. After its split in 1879, Schedrin became a member of the Black Repartition...
,
Vsevolod Garshin
Vsevolod Garshin
Vsevolod Mikhailovich Garshin ; was a Russian author of short stories.- Life :When Garshin was seven years old, he witnessed his father commit suicide.During the Russo-Turkish War, Garshin,...
,
Anton Chekhov
Anton Chekhov
Anton Pavlovich Chekhov was a Russian physician, dramatist and author who is considered to be among the greatest writers of short stories in history. His career as a dramatist produced four classics and his best short stories are held in high esteem by writers and critics...
,
Taras Shevchenko
Taras Shevchenko
Taras Hryhorovych Shevchenko -Life:Born into a serf family of Hryhoriy Ivanovych Shevchenko and Kateryna Yakymivna Shevchenko in the village of Moryntsi, of Kiev Governorate of the Russian Empire Shevchenko was orphaned at the age of eleven...
,
Ivan Turgenev
Ivan Turgenev
Ivan Sergeyevich Turgenev was a Russian novelist, short story writer, and playwright. His first major publication, a short story collection entitled A Sportsman's Sketches, is a milestone of Russian Realism, and his novel Fathers and Sons is regarded as one of the major works of 19th-century...
, Fyodor Dostoyevsky, Maksim Gorky and writer-painter Nikolai Leykin. From the French he had translated some of the works of Balzac,
Prosper Mérimée
Prosper Mérimée
Prosper Mérimée was a French dramatist, historian, archaeologist, and short story writer. He is perhaps best known for his novella Carmen, which became the basis of Bizet's opera Carmen.-Life:...
's
Colomba
Colomba
Colomba is a municipality in the Quetzaltenango department of Guatemala with 212 km2 surface at about 1011 m altitude. The population is 38,746 ....
,
Jules Verne
Jules Verne
Jules Gabriel Verne was a French author who pioneered the science fiction genre. He is best known for his novels Twenty Thousand Leagues Under the Sea , A Journey to the Center of the Earth , and Around the World in Eighty Days...
's
Une Fantaisie du Docteur Ox
(
Doktor Oks i njegova posla
),
Ludovic Halévy
Ludovic Halévy
Ludovic Halévy was a French author and playwright. He was half Jewish : his Jewish father had converted to Christianity prior to his birth, to marry his mother, née Alexandrine Lebas.-Biography:Ludovic Halévy was born in Paris...
,
Victorien Sardou
Victorien Sardou
Victorien Sardou was a French dramatist. He is best remembered today for his development, along with Eugène Scribe, of the well-made play...
,
Maurice Maeterlinck
Maurice Maeterlinck
Maurice Polydore Marie Bernard Maeterlinck, also called Comte Maeterlinck from 1932, was a Belgian playwright, poet, and essayist who wrote in French. He was awarded the Nobel Prize in Literature in 1911. The main themes in his work are death and the meaning of life...
(
Princess Maleine
),
Alphonse Daudet
Alphonse Daudet
Alphonse Daudet was a French novelist. He was the father of Léon Daudet and Lucien Daudet.- Early life :Alphonse Daudet was born in Nîmes, France. His family, on both sides, belonged to the bourgeoisie. The father, Vincent Daudet, was a silk manufacturer — a man dogged through life by misfortune...
(
Tartarin de Tarascon
Tartarin de Tarascon
Tartarin of Tarascon is an 1872 novel written by the French author Alphonse Daudet.-Synopsis:It tells the burlesque adventures of Tartarin, a local hero of Tarascon, a small town in southern France, whose invented adventures and reputation as a swashbuckler finally force him to travel to a very...
and
Le Nabab
), Erckmann-Chatrian (
Hugues-le-loup
,
Les Deux Frères
, and
L'Invasion ou le Fou Yégof
),
Émile Augier
Émile Augier
Guillaume Victor Émile Augier was a French dramatist. He was the thirteenth member to occupy seat 1 of the Académie française on 31 March 1857.-Biography:...
(
Le Fils de Giboyer
and
La pierre de touche
),
Jules Sandeau
Jules Sandeau
Leonard Sylvain Julien Sandeau was a French novelist.He was born at Aubusson , and was sent to Paris to study law, but spent much of his time in unruly behaviour with other students. He met George Sand, then Madame Dudevant, at Le Coudray in the house of a friend, and when she came to Paris in...
,
Eugène Scribe
Eugène Scribe
Augustin Eugène Scribe , was a French dramatist and librettist. He is best known for the perfection of the so-called "well-made play" . This dramatic formula was a mainstay of popular theater for over 100 years.-Biography:...
, Edouard Foussier,
Eugène Marin Labiche
Eugène Marin Labiche
Eugène Marin Labiche was a French dramatist.-Biography:He was born into a bourgeois family and studied law. At the age of twenty, he contributed a short story to Chérubin magazine, entitled Les plus belles sont les plus fausses. A few others followed , but failed to catch the attention of the...
,
Henri Meilhac
Henri Meilhac
Henri Meilhac , was a French dramatist and opera librettist.-Biography:Meilhac was born in Paris in 1831. As a young man, he began writing fanciful articles for Parisian newspapers and vaudevilles, in a vivacious boulevardier spirit which brought him to the forefront...
,
Georges Feydeau
Georges Feydeau
Georges Feydeau was a French playwright of the era known as the Belle Époque. He is remembered for his many lively farces.-Biography:Georges Feydeau was born in Paris, the son of novelist Ernest-Aimé Feydeau and Léocadie Bogaslawa Zalewska. At the age of twenty, Feydeau wrote his first comic...
and others. He also translated the works of American authors, particularly
Mark Twain
Mark Twain
Samuel Langhorne Clemens , better known by his pen name Mark Twain, was an American author and humorist...
and Edgar Allen Poe. For the Serbian theater he had translated more than thirty-one plays from Russian, French, and German literatures.
Milovan Glišić was known mostly for his realist stories, but he also had a few which included horror motifs of Serbian folklore and superstition. The most famous one is --
After ninety years
(1880) -- published some 17 years before
Bram Stoker
Bram Stoker
Abraham "Bram" Stoker was an Irish novelist and short story writer, best known today for his 1897 Gothic novel Dracula...
's
Dracula

Dracula

Dracula is an 1897 novel by Irish author Bram Stoker.Famous for introducing the character of the vampire Count Dracula, the novel tells the story of Dracula's attempt to relocate from Transylvania to England, and the battle between Dracula and a small group of men and women led by Professor...


.
In Glišić story the main character is Strahinya, a poor lad in the 19th century rural Serbia, who falls in love with a lovely daughter of a wealthy but ill-tempered Živan. He is almost driven from the village when the village boss, the priest and a few village elders see an opportunity for Strahinya. The village is plagued by a
vampire
Vampire
Vampires are mythological or folkloric beings who subsist by feeding on the life essence of living creatures, regardless of whether they are undead or a living person...
attacking millers in an old mill: since no one dares to stay the night over there, the people are on the verge of famine. Strahinya agrees to do the job, and manages to survive the night hiding in the attic. After some troubles, the villagers manage to discover the vampire's grave. They pierce the (unopened) coffin with a stake, but due to clumsiness and fright of one of the company, a butterfly escapes from the coffin before it is sprinkled by the Holy water. It represents the soul of the vampire which remains undestroyed. Everybody thinks it's all over now, but in the end – the real horrors await Strahinya during his wedding night. Based on
After Ninety Years
(1880) was a Serbian horror TV movie called
Leptirica
(The She-Butterfly), made in 1973.
Leptirica
is now considered a classic in the Serbian and former Yugoslav horror film genre.