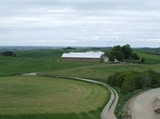 Møllehøj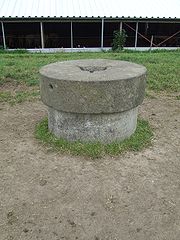 Møllehøj
is the highest
natural
point in
Denmark
Denmark
Denmark is a Scandinavian country in Northern Europe. The countries of Denmark and Greenland, as well as the Faroe Islands, constitute the Kingdom of Denmark . It is the southernmost of the Nordic countries, southwest of Sweden and south of Norway, and bordered to the south by Germany. Denmark...
at 170.86 m (561 ft). It is in the Ejerbjerge hills in
Skanderborg municipality
Skanderborg municipality
Skanderborg Municipality is a municipality in Region Midtjylland on the Jutland peninsula in central Denmark, just southwest of Aarhus and is a part of the Aarhus area...
, very close to
Ejer Bavnehøj
Ejer Bavnehøj
Ejer Bavnehøj is the third-highest natural point in Denmark . It lies in the southern part of Skanderborg municipality, between the villages of Riis and Ejer....
. The summit is marked with a
millstone
Millstone
Millstones or mill stones are used in windmills and watermills, including tide mills, for grinding wheat or other grains.The type of stone most suitable for making millstones is a siliceous rock called burrstone , an open-textured, porous but tough, fine-grained sandstone, or a silicified,...
, a remnant of Ejer
mill
Windmill
A windmill is a machine which converts the energy of wind into rotational energy by means of vanes called sails or blades. Originally windmills were developed for milling grain for food production. In the course of history the windmill was adapted to many other industrial uses. An important...
which was situated on the hill from 1838 to 1917. The mill had 8 sides and had an onion-shaped roof.
New measurements made in February 2005 showed that Møllehøj was higher than both
Yding Skovhøj
Yding Skovhøj
Yding Skovhøj in Horsens municipality, Jutland is one of Denmark's highest points. Its height is 172.54 m above sea level when the height of one of the Bronze Age burial mounds built on the top of the hill is included...
(172.66 m including a
Bronze Age
Bronze Age
The Bronze Age is a period characterized by the use of copper and its alloy bronze as the chief hard materials in the manufacture of some implements and weapons. Chronologically, it stands between the Stone Age and Iron Age...
burial mound on its summit, 170.77 m without) in
Horsens municipality
Horsens municipality
Horsens municipality is a municipality in Region Midtjylland on the east coast of the Jutland peninsula in central Denmark. The municipality includes the island of Endelave, and covers an area of 542 km². It has a total population of 81,957 . Its mayor is Jan Trøjborg, a member of the Social...
or Ejer Bavnehøj which had both been thought higher. These two highpoints' natural heights are however respectively 9 and 51 cm lower than Møllehøj. It was officially recognised as Denmark's highest point in 2005.