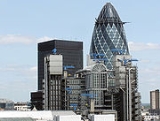 Lloyd's of London
"Lloyd's" redirects here. For other uses, see Lloyd

Lloyd

The name Lloyd is a variation of the Welsh word llwyd or clwyd, which means "grey" or "brown".-People:See main articles:* Lloyd * Lloyd * Lloyd Lloyd or Lloyd's or Lloyds may also refer to:...



Lloyd's
, also known as
Lloyd's of London
, is a British
insurance
Insurance
In law and economics, insurance is a form of risk management primarily used to hedge against the risk of a contingent, uncertain loss. Insurance is defined as the equitable transfer of the risk of a loss, from one entity to another, in exchange for payment. An insurer is a company selling the...
and
reinsurance
Reinsurance
Reinsurance is insurance that is purchased by an insurance company from another insurance company as a means of risk management...
market. It serves as a partially mutualised marketplace where multiple financial backers, underwriters, or members, whether individuals (traditionally known as Names) or corporations, come together to pool and spread
risk
Risk
Risk is the potential that a chosen action or activity will lead to a loss . The notion implies that a choice having an influence on the outcome exists . Potential losses themselves may also be called "risks"...
. Unlike most of its competitors in the insurance and reinsurance industry, it is not a company, but it is a corporate body under the Lloyd's Act 1871 of the British Parliament.