 List of sites and peoples visited by the Hernando de Soto Expedition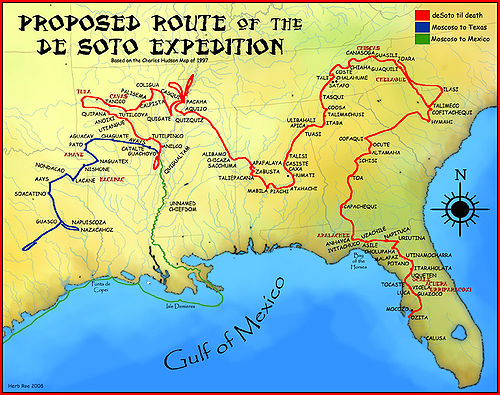 This is a
list of sites and peoples visited by the Hernando de Soto Expedition
in the years 1539–1543. In May 1539, de Soto left Havana, Cuba, with nine ships, over 620 men and 220 surviving horses and landed at
Charlotte Harbor, Florida
Port Charlotte, Florida
Port Charlotte is a census-designated place in Charlotte County, Florida, United States. The population was 46,451 at the 2000 census. It is part of the Punta Gorda Metropolitan Statistical Area.-History:...
. This began his three-year odyssey through the Southeastern North American continent, from which de Soto and a large portion of his men would not return. They met many varied
Native American
Indigenous peoples of the Americas
The indigenous peoples of the Americas are the pre-Columbian inhabitants of North and South America, their descendants and other ethnic groups who are identified with those peoples. Indigenous peoples are known in Canada as Aboriginal peoples, and in the United States as Native Americans...
groups, most of them belonging to the widespread
Mississippian culture
Mississippian culture
The Mississippian culture was a mound-building Native American culture that flourished in what is now the Midwestern, Eastern, and Southeastern United States from approximately 800 CE to 1500 CE, varying regionally....
. Only a few of these cultures survived into the seventeenth century. The others' only appearance in the written historical record was in the accounts of de Soto's expedition.
Florida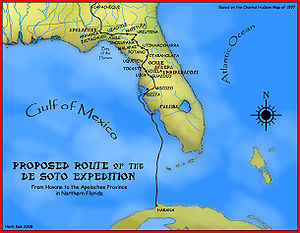 Georgia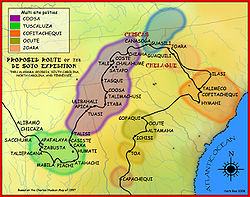 Tennessee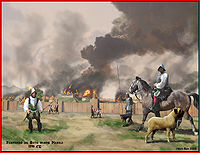 Alabama
Mississippi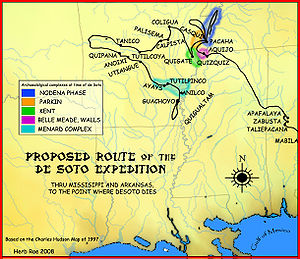 Arkansas
Texas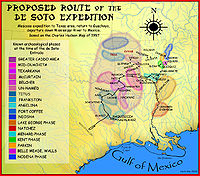 See also