 Leberkäse
is a specialty food found in the south of
Germany
Germany
Germany , officially the Federal Republic of Germany , is a federal parliamentary republic in Europe. The country consists of 16 states while the capital and largest city is Berlin. Germany covers an area of 357,021 km2 and has a largely temperate seasonal climate...
, in
Austria
Austria
Austria , officially the Republic of Austria , is a landlocked country of roughly 8.4 million people in Central Europe. It is bordered by the Czech Republic and Germany to the north, Slovakia and Hungary to the east, Slovenia and Italy to the south, and Switzerland and Liechtenstein to the...
and parts of
Switzerland
Switzerland
Switzerland name of one of the Swiss cantons. ; ; ; or ), in its full name the Swiss Confederation , is a federal republic consisting of 26 cantons, with Bern as the seat of the federal authorities. The country is situated in Western Europe,Or Central Europe depending on the definition....
, similar to
bologna sausage
Bologna sausage
Bologna sausage is an American sausage derived from and definitely not similar to the Italian mortadella . It is commonly called boloney, baloney or, more formally, bologna...
. It consists of
corned beef
Corned beef
Corned beef is a type of salt-cured beef products present in many beef-eating cultures. The English term is used interchangeably in modernity to refer to three distinct types of cured beef:...
,
pork
Pork
Pork is the culinary name for meat from the domestic pig , which is eaten in many countries. It is one of the most commonly consumed meats worldwide, with evidence of pig husbandry dating back to 5000 BC....
,
bacon
Bacon
Bacon is a cured meat prepared from a pig. It is first cured using large quantities of salt, either in a brine or in a dry packing; the result is fresh bacon . Fresh bacon may then be further dried for weeks or months in cold air, boiled, or smoked. Fresh and dried bacon must be cooked before eating...
and
onion
Onion
The onion , also known as the bulb onion, common onion and garden onion, is the most widely cultivated species of the genus Allium. The genus Allium also contains a number of other species variously referred to as onions and cultivated for food, such as the Japanese bunching onion The onion...
s and is made by grinding the ingredients very finely and then baking it as a loaf in a bread pan until it has a crunchy brown crust.
History
Leberkäse is said to have been invented in 1776 by the cook of
Charles Theodore, Elector of Bavaria
Charles Theodore, Elector of Bavaria
Charles Theodore, Prince-Elector, Count Palatine and Duke of Bavaria reigned as Prince-Elector and Count palatine from 1742, as Duke of Jülich and Berg from 1742 and also as Prince-Elector and Duke of Bavaria from 1777, until his death...
, although this story has been heavily contested. The name
"Leberkäse"
literally translates to
"liver-cheese"
even though in Bavaria the dish traditionally contains neither
liver
Liver
The liver is a vital organ present in vertebrates and some other animals. It has a wide range of functions, including detoxification, protein synthesis, and production of biochemicals necessary for digestion...
nor
cheese
Cheese
Cheese is a generic term for a diverse group of milk-based food products. Cheese is produced throughout the world in wide-ranging flavors, textures, and forms....
. Linguists believe that the
etymology
Etymology
Etymology is the study of the history of words, their origins, and how their form and meaning have changed over time.For languages with a long written history, etymologists make use of texts in these languages and texts about the languages to gather knowledge about how words were used during...
of the word either involves the
Middle High German
Middle High German
Middle High German , abbreviated MHG , is the term used for the period in the history of the German language between 1050 and 1350. It is preceded by Old High German and followed by Early New High German...
word
lab
(to clot) or the word
laib
(loaf), and the
Slavic
Slavic languages
The Slavic languages , a group of closely related languages of the Slavic peoples and a subgroup of Indo-European languages, have speakers in most of Eastern Europe, in much of the Balkans, in parts of Central Europe, and in the northern part of Asia.-Branches:Scholars traditionally divide Slavic...
root
quas
(feast).
According to German food laws, only products called "Bavarian Leberkäse" are allowed not to contain liver; otherwise, there must be a minimum liver content of 4%. Some local variants must contain even more liver; for example, the liver content of "
Stuttgart
Stuttgart
Stuttgart is the capital of the state of Baden-Württemberg in southern Germany. The sixth-largest city in Germany, Stuttgart has a population of 600,038 while the metropolitan area has a population of 5.3 million ....
er Leberkäse" must be at least 5%. The type without liver is normally called Fleischkäse (meat cheese) if it is not made in Bavaria.
Methods of eating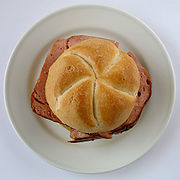 Leberkäse is traditionally enjoyed a variety of ways, including:
Variants
Known variants include:
Käseleberkäse, which adds small pieces of evenly-distributed cheese to the mix
Pikanter Leberkäse, which adds small pieces of pickles and paprika

Paprika

Paprika is a spice made from the grinding of dried fruits of Capsicum annuum . In many European languages, the word paprika refers to bell peppers themselves. The seasoning is used in many cuisines to add color and flavor to dishes. Paprika can range from mild to hot...


pepper bells
Pizzaleberkäse, which adds cheese, cut bell peppers, pickles and small cubes of salami, also known as Pizzakäse or for its similarity to Pizza

Pizza

Pizza is an oven-baked, flat, disc-shaped bread typically topped with a tomato sauce, cheese and various toppings.Originating in Italy, from the Neapolitan cuisine, the dish has become popular in many parts of the world. An establishment that makes and sells pizzas is called a "pizzeria"...


.
Pferdeleberkäse (German Pferd = horse), which is indeed made of horse meat, otherwise not widely consumed in the German language area. Popular in Vienna, Austria.
In addition, many butchers have invented their own unique varieties.
External links
Bavarian Leberkäse