 Kjartan Fløgstad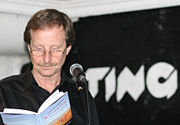 Kjartan Fløgstad
is a Norwegian
author
Author
An author is broadly defined as "the person who originates or gives existence to anything" and that authorship determines responsibility for what is created. Narrowly defined, an author is the originator of any written work.-Legal significance:...
. Fløgstad studied literature and
linguistics
Linguistics
Linguistics is the scientific study of human language. Linguistics can be broadly broken into three categories or subfields of study: language form, language meaning, and language in context....
at the
University of Bergen
University of Bergen
The University of Bergen is located in Bergen, Norway. Although founded as late as 1946, academic activity had taken place at Bergen Museum as far back as 1825. The university today serves more than 14,500 students...
. Subsequently he worked for a period as an industrial worker and as a sailor before he debuted as a poet with his collection of poems titled
Valfart
(Pilgrimage) in 1968. He received the Nordic Council's Literature Prize for his 1977 novel
Dalen Portland
(Dollar Road). Other major works include
Fyr og flamme
(Fire and Flame),
Kron og mynt
,
Grand Manila
and
Grense Jakobselv
.
Literary work
Fløgstad initial prose work,
Den hemmelege jubel
(The Secret Exultation), was published in 1970. In 1972 he published the short story collection
Fangliner
(Ropes), where he encourages seaman and shift workers in heavy industry to make themselves heard in their own language, and the author's
Marxist
Marxism
Marxism is an economic and sociopolitical worldview and method of socioeconomic inquiry that centers upon a materialist interpretation of history, a dialectical view of social change, and an analysis and critique of the development of capitalism. Marxism was pioneered in the early to mid 19th...
viewpoint became apparent. In the 1970s he also wrote two crime novels using the two
pseudonym
Pseudonym
A pseudonym is a name that a person assumes for a particular purpose and that differs from his or her original orthonym...
s K. Villun and K. Villum. His major breakthrough came in 1977 with the novel
Dalen Portland
(Dollar Road); which was awarded the
Nordic Council's Literature Prize
The Nordic Council's Literature Prize
The Nordic Council Literature Prize is awarded for a work of literature written in one of the languages of the Nordic countries, that meets "high literary and artistic standards". Established in 1962, the prize is awarded every year, and is worth 350,000 Danish kroner...
. Following this,
Fyr og flamme
(Fire and Flame) in 1980 and
Det 7. klima
(The Seventh Climate) in 1986 were his next most recognized works. In the major novels he demonstrates a command of realistic precision combined with an understanding of sociology. Fløgstad's work depicts the economic and social transitions as Norway moves from an agricultural culture to an industrial society, and then to a post-industrial society.
Fløgstad's style of writing, as demonstrated in both fiction and non-fiction, is very characteristic; lots of puns, allusions to other texts and to films and a mix of sociolects. He is one of the best-known authors associated with
magic realism
Magic realism
Magic realism or magical realism is an aesthetic style or genre of fiction in which magical elements blend with the real world. The story explains these magical elements as real occurrences, presented in a straightforward manner that places the "real" and the "fantastic" in the same stream of...
in Norway, and his overall realistic plots often feature many fantastic twists.
Prizes
Aschehougprisen 1975
The Nordic Council's Literature Prize

The Nordic Council's Literature Prize

The Nordic Council Literature Prize is awarded for a work of literature written in one of the languages of the Nordic countries, that meets "high literary and artistic standards". Established in 1962, the prize is awarded every year, and is worth 350,000 Danish kroner...


1978, for Dalen Portland
The Norwegian Critics Prize for Literature

The Norwegian Critics Prize for Literature

The Norwegian Critics Prize for Literature is awarded by the Norwegian Literature Critics' Association and has been awarded every year since 1950...


1980, for Fyr and flamme
Melsom-prisen 1981
Nynorsk Literature Prize

Nynorsk Literature Prize

The Nynorsk Literature Prize is awarded annually by Noregs Mållag, Det Norske Teatret and Det Norske Samlaget for the best book in either Nynorsk or dialect...


1983, for U3
Stavanger Aftenblads kulturpris
Nynorsk (new Norwegian) litteraturpris 1986, for Det 7. klima
Gyldendals legacy 1991
Doblougprisen 1997
Brage Prize

Brage Prize

The Brage Prize is a Norwegian literature prize that is awarded annually by the Norwegian Book Prize foundation...


1998, for Kron and mynt
Gyldendalprisen 1998
Edvardprisen 2003
Bernardo O'Higgins-ordenen, awarded by Chile

Chile

Chile ,officially the Republic of Chile , is a country in South America occupying a long, narrow coastal strip between the Andes mountains to the east and the Pacific Ocean to the west. It borders Peru to the north, Bolivia to the northeast, Argentina to the east, and the Drake Passage in the far...


s government in 2004
The honorary Brage Prize

Brage Prize

The Brage Prize is a Norwegian literature prize that is awarded annually by the Norwegian Book Prize foundation...


, an open special award
External links