 Hugo Alfvén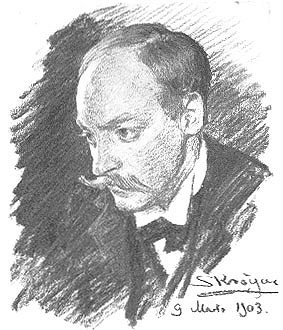 was a
Swedish
Sweden
Sweden , officially the Kingdom of Sweden , is a Nordic country on the Scandinavian Peninsula in Northern Europe. Sweden borders with Norway and Finland and is connected to Denmark by a bridge-tunnel across the Öresund....
composer
Composer
A composer is a person who creates music, either by musical notation or oral tradition, for interpretation and performance, or through direct manipulation of sonic material through electronic media...
,
conductor
Conducting
Conducting is the art of directing a musical performance by way of visible gestures. The primary duties of the conductor are to unify performers, set the tempo, execute clear preparations and beats, and to listen critically and shape the sound of the ensemble...
,
violin
Violin
The violin is a string instrument, usually with four strings tuned in perfect fifths. It is the smallest, highest-pitched member of the violin family of string instruments, which includes the viola and cello....
ist, and
painter
Painting
Painting is the practice of applying paint, pigment, color or other medium to a surface . The application of the medium is commonly applied to the base with a brush but other objects can be used. In art, the term painting describes both the act and the result of the action. However, painting is...
.
Violinist
Alfvén was born in
Stockholm
Stockholm
Stockholm is the capital and the largest city of Sweden and constitutes the most populated urban area in Scandinavia. Stockholm is the most populous city in Sweden, with a population of 851,155 in the municipality , 1.37 million in the urban area , and around 2.1 million in the metropolitan area...
and studied at the
Music Conservatory
Royal College of Music, Stockholm
The Royal College of Music, Stockholm is the oldest institution of higher education in music in Sweden, founded in 1771 as the conservatory of the Royal Swedish Academy of Music...
there from 1887 to 1891 with the violin as his main instrument, receiving lessons from Lars Zetterquist. He also took private composition lessons from Johan Lindegren, a leading counterpoint expert. He earned a living by playing the violin at the
Royal Opera in Stockholm
Royal Swedish Opera
Kungliga Operan is Sweden's national stage for opera and ballet.-Location and Environment:...
. He also played the violin in
Kungliga Hovkapellet
Kungliga Hovkapellet
Kungliga Hovkapellet , is a Swedish orchestra and was located at the Royal Court in Sweden's capital Stockholm. It was first recorded in 1526. Since 1773 it is part of the Royal Swedish Opera's company....
(the Swedish court orchestra).
Conductor
Starting in 1897, Alfvén travelled much of the next ten years in Europe. He studied violin technique in
Brussels
Brussels
Brussels , officially the Brussels Region or Brussels-Capital Region , is the capital of Belgium and the de facto capital of the European Union...
with
César Thomson
César Thomson
César Thomson was a Belgian violinist, teacher and composer.He was born in Liège in 1857. At age seven, he entered the Liège Conservatory of Music, and studied under Jacques Dupuis and Lambert Massart. By age 16, he was considered to have "a technique unrivalled by any other violinist then living"...
and learned conducting in
Dresden
Dresden
Dresden is the capital city of the Free State of Saxony in Germany. It is situated in a valley on the River Elbe, near the Czech border. The Dresden conurbation is part of the Saxon Triangle metropolitan area....
as sub-conductor under
Hermann Ludwig Kutzschbach
Hermann Ludwig Kutzschbach
Hermann Ludwig Kutzschbach was a German conductor whose career was principally at Dresden.The son of a music-master, he studied at the Dresden Conservatory under Kluge, E. Krantz and Felix Draeseke...
. In 1903-4 he was professor of composition at the Royal Conservatory, Stockholm. From 1910 Alfvén was
Director musices
Director musices
Director musices, Latin for music director, was a title held by music directors especially at European universities or cathedrals; sometimes also at cathedral schools. The title is still used at universities in Sweden...
(music director) at the
University of Uppsala
Uppsala University
Uppsala University is a research university in Uppsala, Sweden, and is the oldest university in Scandinavia, founded in 1477. It consistently ranks among the best universities in Northern Europe in international rankings and is generally considered one of the most prestigious institutions of...
(a post he held until 1939). There he also directed the male voice choir
Orphei Drängar
Orphei Drängar
Orphei Drängar is a Swedish male choir and singing society founded in 1853, based in Uppsala and one of the two notable singing societies traditionally affiliated with the university there...
(or 'O.D.') (until 1947). He conducted in festivals at Dortmund (1912), Stuttgart (1913), Gothenburg (1915), and Copenhagen (1918-1919). He toured
Europe
Europe
Europe is, by convention, one of the world's seven continents. Comprising the westernmost peninsula of Eurasia, Europe is generally 'divided' from Asia to its east by the watershed divides of the Ural and Caucasus Mountains, the Ural River, the Caspian and Black Seas, and the waterways connecting...
as a conductor throughout his life. He received a Ph.D.
honoris causa
from Uppsala in 1917 and became a member of the Royal Academy of Music in Stockholm in 1908. Alfvén recorded some of his orchestral music in stereo late in 1954 (the first classical stereo recordings made in Sweden); the recordings were issued on LP in the U.S. by
Westminster Records
Westminster Records
Westminster Records was an American classical music record label, issuing original recordings from 1949 to 1965.It was founded in 1949 by Mischa Naida, the owner of the Westminster Record shop in New York City, businessman James Grayson, and conductor Henry Swoboda...
. A three-CD collection of Alfvén's recordings as a conductor has been issued.
Composer
Alfvén became known as one of Sweden's principal composers of his time, together with his contemporary
Wilhelm Stenhammar
Wilhelm Stenhammar
Carl Wilhelm Eugen Stenhammar was a Swedish composer, conductor and pianist.-Biography:Stenhammar was born in Stockholm, where he received his first musical education. He then went to Berlin to further his studies in music. He became a glowing admirer of German music, particularly that of Richard...
. Alfvén's music is in a late-
Romantic
Romantic music
Romantic music or music in the Romantic Period is a musicological and artistic term referring to a particular period, theory, compositional practice, and canon in Western music history, from 1810 to 1900....
idiom. His orchestration is skillful and colorful, reminiscent of that of
Richard Strauss
Richard Strauss
Richard Georg Strauss was a leading German composer of the late Romantic and early modern eras. He is known for his operas, which include Der Rosenkavalier and Salome; his Lieder, especially his Four Last Songs; and his tone poems and orchestral works, such as Death and Transfiguration, Till...
. Like Strauss, Alfvén wrote a considerable amount of
program music
Program music
Program music or programme music is a type of art music that attempts to musically render an extra-musical narrative. The narrative itself might be offered to the audience in the form of program notes, inviting imaginative correlations with the music...
. Some of Alfvén's music evokes the landscape of Sweden.
Among his works are a large number of pieces for male voice choir, five
symphonies
Symphony
A symphony is an extended musical composition in Western classical music, scored almost always for orchestra. A symphony usually contains at least one movement or episode composed according to the sonata principle...
and three orchestral "Swedish Rhapsodies." The first of these rhapsodies,
Midsommarvaka
is his best known piece.
Alfvén's five symphonies, the first four of them now several-times recorded (with another cycle in progress), give a picture of the composer's musical progress. The first, in F minor, his
Op.
Opus number
An Opus number , pl. opera and opuses, abbreviated, sing. Op. and pl. Opp. refers to a number generally assigned by composers to an individual composition or set of compositions on publication, to help identify their works...
7 from 1897, is an early work, tuneful in a standard four movements. The second, in D major (1898-9), his Op. 11 (and in a way his graduation piece, as interestingly recounted
http://www.musicweb.uk.net/classrev/2001/Oct01/Alfven.htm
) concludes with a substantial, even powerful chorale-prelude and fugue in D minor. The third symphony in E major, Op. 23 (1905), also in four movements, more mature in technique though light in manner was inspired by a trip to Italy. The fourth symphony in C minor, Op. 39, of 1918-9 "From the Outermost Skerries" (there is also a tone-poem,
A Legend of the Skerries
) is a symphony in one forty-five minute movement using wordless voices, inspired by
Carl Nielsen
Carl Nielsen
Carl August Nielsen , , widely recognised as Denmark's greatest composer, was also a conductor and a violinist. Brought up by poor but musically talented parents on the island of Funen, he demonstrated his musical abilities at an early age...
's
Sinfonia Espansiva
Symphony No. 3 (Nielsen)
The Danish composer Carl Nielsen wrote his Symphony No. 3 "Sinfonia Espansiva", Op. 27, FS 60, between 1910 and 1911 by . It typically lasts around 33 minutes.The symphony followed Nielsen's tenure as bandmaster at the Royal Danish Opera in Copenhagen...
. The 5th in A minor, begun 1942, is one of the composer's last works, and has only been recorded twice in full (recordings and performances of the 5th, while rare enough, are usually of its quarter-hour first movement).
Naxos Records
Naxos Records
Naxos Records is a record label specializing in classical music. Through a number of imprints, Naxos also releases genres including Chinese music, jazz, world music, and early rock & roll. The company was founded in 1987 by Klaus Heymann, a German-born resident of Hong Kong.Naxos is the largest...
and
BIS Records
BIS Records
BIS Records is a record label founded in 1973 by Robert von Bahr. It is located in Åkersberga, Sweden.BIS focuses on classical music, both contemporary and early, especially works that are not already well represented by existing recordings....
among others have either collections or groups of individual recordings covering all of his symphonies and a range of his works.
Brilliant Classics
has licensed and re-issued the 5-CD set from BIS devoted to Hugo Alfvén that includes the symphonies and other orchestral works.
Swedish Rhapsody No. 1
The first rhapsody -
Swedish Rhapsody No. 1
, also known as
Midsommarvaka
(
Midsummer Vigil
) - was written in 1903 and is often simply called the "Swedish Rhapsody." It is the best-known piece composed by Hugo Alfvén, and also one of the best-known pieces of music in Sweden.
Painter and writer
Alfvén's contributions were multidimensional and also included painting and writing. He was a talented watercolorist and once thought to devote himself entirely to painting. He also was a gifted writer. His 4-volume autobiography has been called "captivating" and provides significant insight into the musical life of Sweden in which Alfvén was a central figure for well over half a century.
Personal life
Alfvén was married three times. His first marriage (1912-1936) was to the Danish painter
Marie Triepcke
Marie Triepcke Krøyer Alfvén
Marie Triepcke Krøyer Alfvén , commonly known as Marie Krøyer, was a famous Danish painter. She was born Maria Martha Mathilde Triepcke in Frederiksberg, Denmark to Wilhelm August Eduard Max and Minna Augusta Kindler Triepcke, who had immigrated to Denmark from Germany the previous year. Max...
(1867-1940), who had previously been married to the painter
Peder Severin Krøyer
Peder Severin Krøyer
Peder Severin Krøyer , known as P.S. Krøyer, was a Norwegian-Danish painter. He is one of the best known and beloved, and undeniably the most colorful of the Skagen Painters, a community of Danish and Nordic artists who lived, gathered or worked in Skagen, Denmark, especially during the final...
(1851-1909). After his divorce from Marie in 1936, he married Carin Wessberg. They were together for two decades (1936-1956) before she died. He married Anna Lund in 1959.
He died in 1960 in
Falun
Falun
Falun is a city and the seat of Falun Municipality in Dalarna County, Sweden, with 36,447 inhabitants in 2005. It is also the capital of Dalarna County...
(Sweden) just after his 88th birthday. His nephew,
Hannes Alfvén
Hannes Alfvén
Hannes Olof Gösta Alfvén was a Swedish electrical engineer, plasma physicist and winner of the 1970 Nobel Prize in Physics for his work on magnetohydrodynamics . He described the class of MHD waves now known as Alfvén waves...
, received the Nobel Prize in Physics in 1970.
Orchestral
Symphony No. 1 in F minor, Op. 7

1st Movement (Grave - Allegro con brio)
2nd Movement (Andante)
3rd Movement (Allegro, molto scherzando)
4th Movement (Allegro, ma non troppo)

Symphony No. 2 in D major, Op. 11 (Mainz 1901)
Swedish Rhapsody No. 1 (Midsommarvaka), Op. 19 (Copenhagen 1908)
Symphonic poem, En skärgardssägen, Op. 20 (Stockholm 1921)
Symphony No. 3 in E major, Op. 23 (1905)

1st Movement (Allegro con brio)
2nd Movement (Andante)
3rd Movement (Presto)
4th Movement (Allegro con brio)

Swedish Rhapsody No. 2 (Uppsala

Uppsala

- Economy :Today Uppsala is well established in medical research and recognized for its leading position in biotechnology.*Abbott Medical Optics *GE Healthcare*Pfizer *Phadia, an offshoot of Pharmacia*Fresenius*Q-Med...


Rhapsody), Op. 24 (Stockholm 1907)
Festspel for theatre, Op. 25 (Stockholm 1908)
Fest-Ouverture, Op. 26
Drapa, Op. 27
Den bergtagna, ballet-pantomime, Op. 37
Elégie (At Emil Sjögren's Funeral), Op. 38
Symphony No. 4 in C minor, Op. 39 (Vienna 1922)
Hjalmar Brantings Sorgmarsch, Op. 42
Elegy, Op. 49 (from Gustav II Adolf)
Festival Overture, Op. 52
Symphony No. 5 in A minor, Op. 54

1st Movement (Lento - Allegro non troppo)
2nd Movement (Andante)
3rd Movement (Lento - Allegro - Presto molto agitato)
4th Movement (Finale: Allegro con brio)

Swedish Rhapsody No. 3
The Prodigal Son, ballet suite
Voice and orchestra
The Bells, baritone and orchestra, Op. 13
The Lord's Prayer, chorus, soloists, orchestra, Op. 15
Ballade, baritone, male chorus and orchestra, Op. 30
Baltic Exhibition

Baltic Exhibition

The Baltic Exhibition was held in Malmö, Sweden from May 15, 1914 until October 4, 1914. It presented exhibits of industry, art and crafts from Sweden, Denmark, Germany and Russia — the four countries then bordering the Baltic Sea...


Cantata, Op. 33 (1914)
Ode on Gustavus Vasa, soli, mixed voices, orchestra, Op. 40
Chamber music
Sonata for violin and piano, Op. 1
Romance, violin and piano, Op. 3
Élégie, horn and piano, Op. 5
Liten svit för soloflöjt ur Mostellaria (Little Suite for Solo Flute)
Source of Inspiration
Hugo Alfvén is the most probable source of inspiration, to the character "Karsten From" found in the novelle "De Dødes Rige (The Kingdom of the Dead)" by the Danish author Henrik Pontoppidan.
External links and references