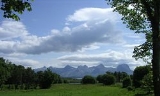 Herøy, Nordland
Herøy
is a
municipality
Municipalities of Norway
Norway is divided into 19 administrative regions, called counties , and 430 municipalities...
in
Nordland
Nordland
is a county in Norway in the North Norway region, bordering Troms in the north, Nord-Trøndelag in the south, Norrbottens län in Sweden to the east, Västerbottens län to the southeast, and the Atlantic Ocean to the west. The county was formerly known as Nordlandene amt. The county administration is...
county
Counties of Norway
Norway is divided into 19 administrative regions, called counties . The counties form the primary first-level subdivisions of Norway and are further divided into 430 municipalities...
,
Norway
Norway
Norway , officially the Kingdom of Norway, is a Nordic unitary constitutional monarchy whose territory comprises the western portion of the Scandinavian Peninsula, Jan Mayen, and the Arctic archipelago of Svalbard and Bouvet Island. Norway has a total area of and a population of about 4.9 million...
. It is part of the
Helgeland
Helgeland
Helgeland is the most southerly district in Northern Norway. Generally speaking, Helgeland refers to the part of Nordland county that is located south of the Arctic Circle. The district covers an area of about , with nearly 79,000 inhabitants...
traditional region
Districts of Norway
The country Norway is historically divided into a number of districts. Many districts have deep historical roots, and only partially coincide with today's administrative units of counties and municipalities. The districts are defined by geographical features, often valleys, mountain ranges, fjords,...
. The administrative centre of the municipality is the village of Herøy. Herøy was separated from
Alstahaug
Alstahaug
Alstahaug is a municipality in Nordland county, Norway. It is part of the Helgeland region. The administrative centre of the municipality is the town of Sandnessjøen....
in 1862. The new municipality of
Nordvik
Nordvik
Nordvik is a former municipality in Nordland county, Norway.It was created by a split from Herøy on 1 July 1917. At that time Nordvik had a population of 1,530.On 1 January 1962 Nordvik became a part of the new municipality Dønna...
was separated from Herøy on 1 July 1917.
Name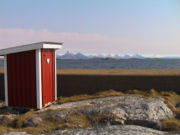 The municipality is named after the
island
Island
An island or isle is any piece of sub-continental land that is surrounded by water. Very small islands such as emergent land features on atolls can be called islets, cays or keys. An island in a river or lake may be called an eyot , or holm...
s of
Søndre Herøya
and
Nordre Herøya
(
Old Norse
Old Norse
Old Norse is a North Germanic language that was spoken by inhabitants of Scandinavia and inhabitants of their overseas settlements during the Viking Age, until about 1300....
:
Herøyjar
). The first element is
herr
which means "
army
Army
An army An army An army (from Latin arma "arms, weapons" via Old French armée, "armed" (feminine), in the broadest sense, is the land-based military of a nation or state. It may also include other branches of the military such as the air force via means of aviation corps...
" (here in the sense of
skipaherr
which means "
military
Military
A military is an organization authorized by its greater society to use lethal force, usually including use of weapons, in defending its country by combating actual or perceived threats. The military may have additional functions of use to its greater society, such as advancing a political agenda e.g...
fleet
Naval fleet
A fleet, or naval fleet, is a large formation of warships, and the largest formation in any navy. A fleet at sea is the direct equivalent of an army on land....
") and the last element is the
plural
Plural
In linguistics, plurality or [a] plural is a concept of quantity representing a value of more-than-one. Typically applied to nouns, a plural word or marker is used to distinguish a value other than the default quantity of a noun, which is typically one...
form of
øy
which means "island". The
sound
Sound (geography)
In geography a sound or seaway is a large sea or ocean inlet larger than a bay, deeper than a bight and wider than a fjord; or it may be defined as a narrow sea or ocean channel between two bodies of land ....
between the islands was probably a meeting place for the
Leidang
Leidang
The institution known as leiðangr , leidang , leding, , ledung , expeditio or sometimes lething , was a public levy of free farmers typical for medieval Scandinavians. It was a form of conscription to organise coastal fleets for seasonal excursions and in defence of the realm...
fleet of the district.
Coat-of-arms
The
coat of arms
Coat of arms
A coat of arms is a unique heraldic design on a shield or escutcheon or on a surcoat or tabard used to cover and protect armour and to identify the wearer. Thus the term is often stated as "coat-armour", because it was anciently displayed on the front of a coat of cloth...
is from modern times. It was granted on 3 July 1987. The arms show three gold-colored
oar
Oar
An oar is an implement used for water-borne propulsion. Oars have a flat blade at one end. Oarsmen grasp the oar at the other end. The difference between oars and paddles are that paddles are held by the paddler, and are not connected with the vessel. Oars generally are connected to the vessel by...
s on a blue background. They symbolize the history of boating in the island municipality, and it also a
canting
Canting arms
Canting arms are heraldic bearings that represent the bearer's name in a visual pun or rebus. The term cant came into the English language from Anglo-Norman cant, meaning song or singing, from Latin cantāre, and English cognates include canticle, chant, accent, incantation and recant.Canting arms –...
of the name of the municipality which means a place where a fleet gathers.