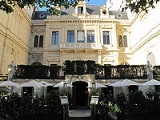 Hôtel de la Païva
The
Hôtel de La Païva
was built between 1856 and 1865 at 25 Avenue des Champs-Élysées by the courtesan Thérèse Lachman, better known as
La Païva
La Païva
Esther Lachmann, later Pauline Thérèse Lachmann, later Mme Villoing, later Mme la Marquise de Païva, later Countess Henckel von Donnersmarck, and generally known as la Païva was the most successful of 19th century French courtesans...
. She was born in modest circumstances in the Moscow ghetto, of Polish parents. By successive marriages, she became a Portuguese
marchioness
Marchioness
Marchioness could refer to:*A noblewoman with the rank of Marquess, or the wife of a Marquess.*The Marchioness, a pleasure boat that was sunk on the River Thames in 1989....
and a Prussian countess, this last marriage supplying the funds for the
hôtel
, at which she gave fabulous feasts.
History
La Païva had already acquired a luxurious mansion at 28 Place Saint-Georges in Paris by the time of her marriage in 1871 to Prussian multimillionaire Count
Guido Henckel von Donnersmarck
Guido Henckel von Donnersmarck
Guido Georg Friedrich Erdmann Heinrich Adalbert Graf Henckel von Donnersmarck, from 1901 Fürst Henckel von Donnersmarck was a German nobleman, industrial magnate, and one of the richest men of his time...
, but it was only subsequently that she realized her dream of building a luxurious mansion on the most beautiful avenue in the world. According to legend, in her youth she had been pushed out of a cab by a hurried customer and slightly injured. She promised to herself to build herself a house on the avenue where she fell.
Once the
hôtel
was built, she received many notable people there, including the
Goncourt brothers
Goncourt brothers
The Goncourt brothers were Edmond de Goncourt and Jules de Goncourt , both French naturalist writers. They formed a partnership that "is possibly unique in literary history...
,
Théophile Gautier
Théophile Gautier
Pierre Jules Théophile Gautier was a French poet, dramatist, novelist, journalist, art critic and literary critic....
,
Léon Gambetta
Léon Gambetta
Léon Gambetta was a French statesman prominent after the Franco-Prussian War.-Youth and education:He is said to have inherited his vigour and eloquence from his father, a Genovese grocer who had married a Frenchwoman named Massabie. At the age of fifteen, Gambetta lost the sight of his right eye...
,
Ernest Renan
Ernest Renan
Ernest Renan was a French expert of Middle East ancient languages and civilizations, philosopher and writer, devoted to his native province of Brittany...
, and
Hippolyte Taine
Hippolyte Taine
Hippolyte Adolphe Taine was a French critic and historian. He was the chief theoretical influence of French naturalism, a major proponent of sociological positivism, and one of the first practitioners of historicist criticism. Literary historicism as a critical movement has been said to originate...
. In 1877, suspected of espionage, La Païva and her husband left France and withdrew to Silesia, where she died in 1884.
Since 1903, the
Hôtel de La Païva
, with its large yellow onyx staircase, Moorish-style bathroom, sculptures, paintings, and a ceiling by Paul Baudry, has been home to the Travelers Club.
The double entrance to the courtyard of the
hôtel
has been preserved: one door was for entry of cabs and the second for their exit, avoiding the need to turn around. The courtyard has been replaced by commercial establishments: first a financial exchange office, and later a restaurant.
The building and its furnishings
La Païva commissioned architect Pierre Manguin to build the
hôtel
in
Italian Renaissance
Italian Renaissance
The Italian Renaissance began the opening phase of the Renaissance, a period of great cultural change and achievement in Europe that spanned the period from the end of the 13th century to about 1600, marking the transition between Medieval and Early Modern Europe...
style. He worked with the sculptors Léon Cugnot,
Eugène Delaplanche
Eugène Delaplanche
Eugène Delaplanche was a French sculptor, born at Belleville .-Life:He was a pupil of Duret, gained the Prix de Rome in 1864 , and the medal of honor in 1878. His "Messenger of Love" , "Aurora" , and the "Virgin of the Lillies" , are in the Luxembourg...
, Eugène Legrain,
Ernest Carrier-Belleuse
Albert-Ernest Carrier-Belleuse
Albert-Ernest Carrier-Belleuse was a French sculptor and painter.- Life :Carrier-Belleuse was a student of David d'Angers and briefly at the École des Beaux-Arts...
and
Jules Dalou
Jules Dalou
Aimé-Jules Dalou was a French sculptor, recognized as one of the most brilliant virtuosos of nineteenth-century France, admired for his perceptiveness, execution, and unpretentious realism.-Life:...
.
The
hôtel
is especially famous for its beautiful yellow onyx staircase, probably unique in the world. The stairs inspired the contemporary witticism by the playwright
François Ponsard
François Ponsard
François Ponsard , was a French dramatist, poet and author and was a member of the Académie française.-Literary career:...
, adapted from
Phèdre
Phèdre
Phèdre is a dramatic tragedy in five acts written in alexandrine verse by Jean Racine, first performed in 1677.-Composition and premiere:...
,
"Ainsi que la vertu, le vice a ses degrés"
("Like virtue, vice has its degrees"; in French, the final word,
degrés
, means both steps in a staircase and levels of a hierarchy.)
The bath
The Napoleon III style bathtub was sculpted by Donnadieu from a block of yellow onyx (1.85 m - 900 kg). This material, called onyx-marble, was found in a Roman quarry rediscovered in 1849 near Oran (Algeria) by Delmonte. This type of onyx was used at the time of Napoleon III for the decoration of only the most prestigious buildings. At the Universal Exhibition of 1867, Donnadieu received a distinction for "onyx marbles designed with the elegance which is the supreme attribute of Parisian workers" (from "Algeria to the Universal Exhibition in Paris, 1867" O . McCarthy). La Paîva is said to have taken baths of milk, lime-blossom, and even champagne.
Another tub in silver was equipped with three taps, the third being used for milk or champagne.
Anecdote
During construction of the
hôtel
, Augustin Scholl remarked to those who asked about the progress of the work, "The construction is well underway: just ask the sidewalk."