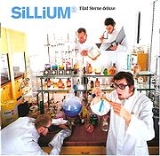 Fünf Sterne Deluxe
Fünf Sterne deluxe was a
German-language
German language
German is a West Germanic language, related to and classified alongside English and Dutch. With an estimated 90 – 98 million native speakers, German is one of the world's major languages and is the most widely-spoken first language in the European Union....
hip-hop
Hip hop music
Hip hop music, also called hip-hop, rap music or hip-hop music, is a musical genre consisting of a stylized rhythmic music that commonly accompanies rapping, a rhythmic and rhyming speech that is chanted...
band from
Hamburg
Hamburg
-History:The first historic name for the city was, according to Claudius Ptolemy's reports, Treva.But the city takes its modern name, Hamburg, from the first permanent building on the site, a castle whose construction was ordered by the Emperor Charlemagne in AD 808...
,
Germany
Germany
Germany , officially the Federal Republic of Germany , is a federal parliamentary republic in Europe. The country consists of 16 states while the capital and largest city is Berlin. Germany covers an area of 357,021 km2 and has a largely temperate seasonal climate...
, founded in mid-1997, consisting of the
rappers
Rapping
Rapping refers to "spoken or chanted rhyming lyrics". The art form can be broken down into different components, as in the book How to Rap where it is separated into "content", "flow" , and "delivery"...
Das Bo (Mirko Bogojevic) and Tobi Tobsen (Tobias Schmidt), the
graphic designer
Graphic designer
A graphic designer is a professional within the graphic design and graphic arts industry who assembles together images, typography or motion graphics to create a piece of design. A graphic designer creates the graphics primarily for published, printed or electronic media, such as brochures and...
Marcnesium (Marc Clausen), and the
disc jockey
Disc jockey
A disc jockey, also known as DJ, is a person who selects and plays recorded music for an audience. Originally, "disc" referred to phonograph records, not the later Compact Discs. Today, the term includes all forms of music playback, no matter the medium.There are several types of disc jockeys...
DJ Coolmann (Mario Cullmann). They released two full length albums and a number of singles and EPs. DJ Coolmann left the band in 2003 for unknown reasons, while the remaining members continued to perform until late 2004, when the group was formally dissolved.
Band history
In the mid 90s, Das Bo and Tobi Tobsen had already made an impression in the German hip-hop scene as Der Tobi & Das Bo with their album Genie und Wahnsinn liegen dicht beieinander and the accompanying singles "Der Racka" and "Morgen geht die Bombe hoch". Tobi had also been a member of the
English-language
English language
English is a West Germanic language that arose in the Anglo-Saxon kingdoms of England and spread into what was to become south-east Scotland under the influence of the Anglian medieval kingdom of Northumbria...
hip-hop crew Poets of Peeze and a founding member of
Fettes Brot
Fettes Brot
Fettes Brot is a German hip hop group founded in 1992.Fettes Brot is German for fat bread. "Fett" is a German slang term for "excellent" and brot is slang for "hash". The band took the name from a fan who called them "Fettes Brot" after an early gig, which was probably meant as a compliment, but...
. They released another album, Genies & Wahnsinn... (Wir sind die Best Ofs) and two further singles, "Is' mir egal" and "Wir sind die Besten", before teaming up with Marcnesium (who had been working with DJ Koze under the name Adolf Noise) and DJ Coolmann to form Fünf Sterne deluxe. Marcnesium is a professional graphic designer, who primarily worked on the visual aspects of the band and was rarely involved with the actual music production.
Live
Concert
A concert is a live performance before an audience. The performance may be by a single musician, sometimes then called a recital, or by a musical ensemble, such as an orchestra, a choir, or a musical band...
, he often played a
sampler
Sampler (musical instrument)
A sampler is an electronic musical instrument similar in some respects to a synthesizer but, instead of generating sounds, it uses recordings of sounds that are loaded or recorded into it by the user and then played back by means of a keyboard, sequencer or other triggering device to perform or...
and supported the two rappers with vocal samples that he modified with an attached
vocoder
Vocoder
A vocoder is an analysis/synthesis system, mostly used for speech. In the encoder, the input is passed through a multiband filter, each band is passed through an envelope follower, and the control signals from the envelope followers are communicated to the decoder...
.
Sillium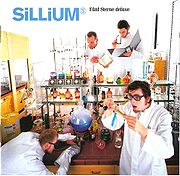 In 1998, the first Fünf Sterne deluxe album Sillium featuring the singles "5 Sterne Deluxe", "Willst Du mit mir gehn?" and "
Dein Herz schlägt schneller
Dein Herz schlägt schneller
Dein Herz schlägt schneller is a song performed by german hip hop band Fünf Sterne Deluxe. It is written by Das Bo and T. Schmidt. It is content on album Sillium.-External links:*...
" was released. Both the album and the singles entered the German charts. The lyrics of Fünf Sterne deluxe were always lighthearted, apparently never to be taken seriously and very humorous, which made them just as controversial among "real" hip-hop fans as the previous band "Der Tobi & Das Bo" had been. In their numerous television appearance that year, they managed to cement their public image, and confused as well as astonished audiences with their entertainment skits, which were a large part of the group's charm. Outside Fünf Sterne deluxe, DJ Coolmann took care of his own label "Hong Kong Records", and released the albums Music for Space Tourism Vol.1 (1995) and The Big Tilt (1998) under the Visit Venus moniker.
1999 saw the release of the single "Ja Ja,... deine Mudder" (the title being a German equivalent of "
yo mama
The dozens
The Dozens is a game that has its origins in African American slavery. The game originates from the devaluing and bargaining off of deformed or defective slaves in auction houses. This element of the African American oral tradition in which two competitors, usually males, go head-to-head in a...
"), which marked a comeback after a period of relative quietness. Having already announced a solo album for the April of 1998, Das Bo released an EP called "Türlich Türlich, sicher Dicker / Nur der Zorn zählt". The release coincided with the new Fünf Sterne deluxe single "Die Leude", but was more successful, selling 220,000 units and introducing Das Bo to mainstream listeners. Neo.Now, the second Fünf Sterne deluxe album, was released the same year, but only saw limited sales and did not live up to Silliums success. Other hip-hop groups with tougher music, lyrics and attitude managed to capture more of the target audience's attention, with Fünf Sterne's more comical approach falling out of fashion. At the end of 2000, the fan club CD Alles muss raus - Die zähe Pampe aus drei Jahren Hirnforschung was released. It featured 28 unreleased tracks and remixes, and came bundled with a Fünf Sterne-branded
skateboard
Skateboard
A skateboard is typically a specially designed plywood board combined with a polyurethane coating used for making smoother slides and stronger durability, used primarily for the activity of skateboarding. The first skateboards to reach public notice came out of the surfing craze of the early 1960s,...
. DJ Coolmann left the band in 2003 for unknown reasons, and remains an active DJ in the Hamburg club scene.
Further history
Fünf Sterne deluxe tried another comeback in 2004 with the EP "Wir sind im Haus", which failed to arouse much interest. They also performed on the
Hurricane Festival
Hurricane Festival
The Hurricane Festival, also just Hurricane, is a music festival that takes place in Scheeßel near Bremen, Germany, usually every June. It is promoted by German private music television channel VIVA, which belongs to Viacom, the MTV Network's parent company, as of 2004...
for the second time after 2001. A third album was planned, but further releases by Fünf Sterne deluxe are unlikely as the band officially folded at the end of 2004.
After a rather long creative pause, Das Bo released his solo album Best of III - Alleine in 2004, which featured the singles "Seid Ihr bereit für Das Bo" and "Ich hab Rap für Dich". It featured a rather different and mellow sound than listeners expected after the
Miami bass
Miami bass
Miami bass , is a type of hip hop music, that became popular in the 1980s and 1990s. Its roots are directly linked to the Electro-funk sound of the early 1980s, pioneered by Afrika Bambataa & The Soulsonic Force and later on by UK-based musician Paul Hardcastle...
-style Türlich Türlich... sicher Dicker of 2000. The album did not sell well and Das Bo subsequently parted ways with his record company Yo Mama. In 2005, Das Bo toured with
Deichkind
Deichkind
Deichkind is a Hip-Hop / Electro band formed in Hamburg, Germany, in 1997. Deichkind's characteristic lyrics typically consist of irony and humor. In 2005, Deichkind represented Mecklenburg-Vorpommern in the Bundesvision Song Contest, finishing 14th of the 16 entries. The band's single Electric...
and made guest appearances on the singles "Wie geil ist das denn??" by Jansen & Kowalski and "Ey Yo" by
DJ Tomekk
Tomasz Kuklicz
Tomasz Kuklicz a.k.a. DJ Tomekk is a Polish-born, German-based hip hop DJ.His hits feature rappers like Ice-T, Fatman Scoop, Khia, Xzibit, Fler, Sido, Kurupt, Lil' Kim, KRS-One, Flavor Flav and GZA....
. He also dissed his former record label on
Samy Deluxe
Samy Deluxe
Samy Sorge , commonly known as Samy Deluxe, Wickeda MC or Sam Semillia is a German rapper, and hip hop artist from Hamburg. He is one of Germany's most successful solo rap musicians while also releasing albums as a member of two separate crews, Dynamite Deluxe and ASD...
's
mixtape
Mixtape
A Mix Tape or Mixed Tape is a compilation of songs recorded in a specific order, traditionally onto an audio Compact Cassette.A Mix Tape, which usually reflects the musical tastes of its compiler, can range from a casually selected list of favorite songs, to a conceptual mix of songs linked by a...
"So deluxe, so glorious".
After several singles and remixes, Tobi Tobsen's
electronic music
Electronic music
Electronic music is music that employs electronic musical instruments and electronic music technology in its production. In general a distinction can be made between sound produced using electromechanical means and that produced using electronic technology. Examples of electromechanical sound...
project
Moonbootica
Moonbootica
Moonbootica is the pseudonym of Hamburg DJs KoweSix und Tobitob . The band name derives from their rather large shoe sizes which quickly lead to the fitting shoes, moon boots. Their musical style is a mixture of Electro and House with little Hip Hop influences...
released a widely acclaimed album in 2005.
Awards
In 2000 the band won the award COMET for best Hip Hop National. The award is given by the German music television channel VIVA.
Discography
Title
Format
Month of release
Chart position
"Es ist nicht einfach so allein"
7" single
May 1997
-
"5 Sterne Deluxe"
limited edition 2x12" EP
June 1997
-
"5 Sterne Deluxe"
12"/CD EP
November 1997
-
"Willst du mit mir gehn"
12"/CD EP
February 1998
47
"Dein Herz schlägt schneller"
12"/CD EP
May 1998
62
"Dein Herz schlägt schneller #1"
12"/CD EP
May 1998
-
"Dein Herz schlägt schneller #2 (Remixes)"
12"/CD EP
May 1998
-
Sillium
2xLP/CD album
March 1998
23
Sillium Instrumentals
limited edition 2xLP album
March 1998
-
"Happy HipHop / Discotizer"
limited edition 10" EP
April 1998
-
"Ja ja, Deine Mudder!"
12"/CD EP
November 1999
38
"Die Leude"
12"/Maxi CD EP
July 2000
39
Neo.Now
2xLP/CD album
October 2000
5
Neo.Now Instrumental
limited edition 2xLP album
November 2000
-
"Stop Talkin' Bull #1"
2x12"/CD EP
November 2000
-
"Stop Talkin' Bull #2"
2x12"/CD EP
November 2000
-
Alles muss raus
limited edition CD compilation album
December 2000
-
"Wir sind im Haus"
12"/Maxi CD EP
July 2004
67
External links
official band website