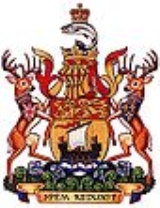 Court of Queen's Bench of New Brunswick
The
Court of Queen's Bench of New Brunswick
(in
French
Canadian French
Canadian French is an umbrella term referring to the varieties of French spoken in Canada. French is the mother tongue of nearly seven million Canadians, a figure constituting roughly 22% of the national population. At the federal level it has co-official status alongside English...
:
Cour du Banc de la Reine du Nouveau-Brunswick
) is the
superior court
Superior court
In common law systems, a superior court is a court of general competence which typically has unlimited jurisdiction with regard to civil and criminal legal cases...
of the Canadian province of
New Brunswick
New Brunswick
New Brunswick is one of Canada's three Maritime provinces and is the only province in the federation that is constitutionally bilingual . The provincial capital is Fredericton and Saint John is the most populous city. Greater Moncton is the largest Census Metropolitan Area...
.
Structure
The Court of Queen's Bench of New Brunswick consists of a Chief Justice among 21 justices plus 7 justices who have elected supernumerary

Supernumerary

A Supernumerary is an additional member of an organization. A supernumerary is also a non-regular member of a staff, a member of the staff or an employee who works in a public office who is not part of the manpower complement...


status after many years of service and after having attained eligibility for retirement.
Current Justices (including district)
The Honourable David D. Smith

David Smith (justice)

David Duncan Smith is a Canadian jurist.Smith is Chief Justice of the Court of Queen's Bench for the Canadian province of New Brunswick. He was appointed Chief Justice in April 1998 after serving as a judge of the Family Division since May 1993....


, Chief Justice of the Court of Queen's Bench of New Brunswick
Justice Guy W. Boisvert* - Bathurst
Justice Jacques A. Sirois* - Moncton
Justice Raymond J. Guerette* - Campbellton
Justice Paul S. Creaghan* - Moncton
Justice Alfred R. Landry* - Moncton
Justice David H. Russell* - Fredericton
Justice Hugh H. McLellan - Saint John
Justice Roger Savoie* - Moncton
Justice Thomas W. Riordon* - Miramichi
Justice Roger McIntyre* - Bathurst
Justice Myrna F. Athey* - Fredericton
Justice Judy L. Clendenning - Fredericton
Justice Gladys J. Young - Campbellton
Justice George S. Rideout - Moncton
Justice Paulette C. Garnett - Fredericton
Justice Peter S. Glennie - Saint John
Justice Brigitte M. Robichaud - Moncton
Justice Réginald Léger - Bathurst
Justice Lucie A. LaVigne - Edmundston
Justice Anne D. Wooder - Fredericton
Justice Colette M. d'Entremont - Moncton
Justice Robert L. Tuck - Moncton
Justice William T. Grant - Saint John
Justice Stephen J. McNally - Moncton
Justice Thomas E.Cyr - Edmundston
Justice Michel A. Robichaud - Bathurst
Justice Barbara L. Baird – Fredericton
Justice Raymond T. French – Saint John
Justice Zoël R. Dionne – Moncton
Justice Jean-Paul Ouellette – Miramichi
Justice Frederick P. Ferguson - Miramichi
Justice Terrence J. Morrison - Woodstock
Justice Bruce A. Noble - Saint John
Justice John J. Walsh – Saint John
*indicates supernumerary justicee