 Camille Lefèvre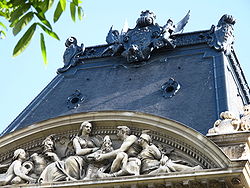 Camille Lefèvre
was a French sculptor.
Biography
Born in
Issy-les-Moulineaux
Issy-les-Moulineaux
Issy-les-Moulineaux is a commune in the southwestern suburban area of Paris, France. It is located from the centre of Paris. On 1 January 2003, Issy-les-Moulineaux became part of the Communauté d'agglomération Arc de Seine along with the other communes of Chaville, Meudon, Vanves and Ville-d'Avray...
, in 1870 Lefèvre became a pupil of Jules Cavelier at the
Ecole des Beaux-Arts
École des Beaux-Arts
École des Beaux-Arts refers to a number of influential art schools in France. The most famous is the École nationale supérieure des Beaux-Arts, now located on the left bank in Paris, across the Seine from the Louvre, in the 6th arrondissement. The school has a history spanning more than 350 years,...
in Paris. In 1878, he won the second
Prix de Rome
Prix de Rome
The Prix de Rome was a scholarship for arts students, principally of painting, sculpture, and architecture. It was created, initially for painters and sculptors, in 1663 in France during the reign of Louis XIV. It was an annual bursary for promising artists having proved their talents by...
in sculpture. In 1893 he exhibited at the Chicago World Fair . In 1900 he became a member of the New Society of Painters and Sculptors in 1901 and is made ​​a Knight of the Legion of Honour. From 1903 to 1906 he was professor at the
National School of Decorative Arts
École nationale supérieure des arts décoratifs
The École Nationale Supérieure des Arts Décoratifs is a public university of art and design and is one of the most prestigious French grande école...
.
Throughout his career, Lefevre remained concerned with social issues, participating in charitable works and maintaining relations with the middle left-liberal among artists as
Eugène Carrière
Eugène Carrière
Eugène Anatole Carrière was a French Symbolist artist of the Fin de siècle period. His work is best known for its brown monochrome palette. He was a close friend of the sculptor Rodin and his work influenced Picasso...
and journalist Jules Lermna.
Among his students was the American sculptor
Frederick Ruckstull
Frederick Ruckstull
Frederick Wellington Ruckstull was a French-born American sculptor and art critic.-Life and career:Born Ruckstuhl in Breitenbach, Alsace, France, his family moved to St. Louis, Missouri in 1855. He worked at a variety of unsatisfying jobs until his early twenties when an art exhibition in St....
. At his death, his collections and his studio was bequeathed to the museum of art and history of Belfort. Other works are kept at the Musée d'Orsay and in provincial museums.
Work
Monument to Emile Levassor in the Square René-Alexander-and-Parodi
Pediment of the Crédit Lyonnais headquarters

Crédit Lyonnais headquarters

The Crédit Lyonnais headquarters is installed in a haussmannian style building in the 2nd arrondissement of Paris...


, Paris (1880-1883)
The Ford, marble (1884), installed in 1942 in the gardens of Sainte-Anne Hospital in Paris
allegorical figure of Painting (1900), the Grand Palais

Grand Palais

This article contains material abridged and translated from the French and Spanish Wikipedia.The Grand Palais des Champs-Elysées, commonly known as the Grand Palais , is a large historic site, exhibition hall and museum complex located at the Champs-Élysées in the 8th arrondissement of Paris, France...


, Paris
Triumph of the Republic (1902), Issy-les-Moulineaux

Issy-les-Moulineaux

Issy-les-Moulineaux is a commune in the southwestern suburban area of Paris, France. It is located from the centre of Paris. On 1 January 2003, Issy-les-Moulineaux became part of the Communauté d'agglomération Arc de Seine along with the other communes of Chaville, Meudon, Vanves and Ville-d'Avray...



completion of the Monument to Léon Gambetta

Léon Gambetta

Léon Gambetta was a French statesman prominent after the Franco-Prussian War.-Youth and education:He is said to have inherited his vigour and eloquence from his father, a Genovese grocer who had married a Frenchwoman named Massabie. At the age of fifteen, Gambetta lost the sight of his right eye...


(1905), posthumous work of Jules Dalou

Jules Dalou

Aimé-Jules Dalou was a French sculptor, recognized as one of the most brilliant virtuosos of nineteenth-century France, admired for his perceptiveness, execution, and unpretentious realism.-Life:...



completion of the Monument Levassor (1907), posthumous work of Dalou, at the Porte Maillot

Porte Maillot

The Porte Maillot is one of the access points into Paris mentioned in 1860 and one of the ancient ancient city gates in the Thiers wall....


in Paris.
architectural sculpture for the Gare de Rouen-Rive-Droite (1928)