 Allgäu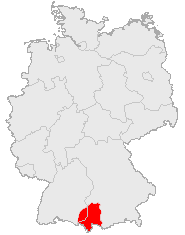 The
Allgäu
(ˈaːlɡɔʏ) is a southern
German
Germany
Germany , officially the Federal Republic of Germany , is a federal parliamentary republic in Europe. The country consists of 16 states while the capital and largest city is Berlin. Germany covers an area of 357,021 km2 and has a largely temperate seasonal climate...
region in
Swabia
Swabia
Swabia is a cultural, historic and linguistic region in southwestern Germany.-Geography:Like many cultural regions of Europe, Swabia's borders are not clearly defined...
. It covers the south of Bavarian Swabia and southeastern
Baden-Württemberg
Baden-Württemberg
Baden-Württemberg is one of the 16 states of Germany. Baden-Württemberg is in the southwestern part of the country to the east of the Upper Rhine, and is the third largest in both area and population of Germany's sixteen states, with an area of and 10.7 million inhabitants...
. The region stretches from the prealpine lands up to the
Alps
Alps
The Alps is one of the great mountain range systems of Europe, stretching from Austria and Slovenia in the east through Italy, Switzerland, Liechtenstein and Germany to France in the west....
. The main rivers flowing through the Allgäu are the Lech and
Iller
Iller
The Iller is a river in Bavaria, Germany. It is a right tributary of the Danube, 147 km in length.The source is located near Oberstdorf in the Allgäu region of the Alps, close to the Austrian border. From there it runs northwards, passing the towns of Sonthofen, Immenstadt, and Kempten...
.
It is sub-divided into the following regions:
The area is notable for its beautiful landscapes and is popular for vacations and therapeutic stays. It is well known in Germany for its farm produce, especially dairy products including
Hirtenkäse
Hirtenkäse
Hirtenkäse, or "herder's cheese", is a distinctive cow's milk cheese made in the Allgäu area of Southern Germany.Traditionally, cow herders bring their cows from the Alps into Allgäu each fall in mid-September. September 18 typically "marks the official start of the Almabtrieb, or descent, a day...
("
herdsman's
Herder
A herder is a worker who lives a possibly semi-nomadic life, caring for various domestic animals, in places where these animals wander pasture lands....
cheese"). The alpine regions of the Allgäu rise over 2,000 metres in altitude and are popular for winter skiing. The world-renowned castle of Neuschwanstein is in the eastern part of the Allgäu.
External links