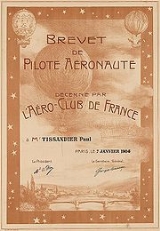 Aéro-Club de France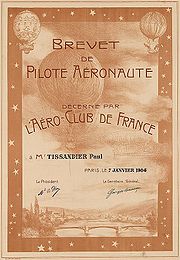 The
Aéro-Club de France
was founded as the
Aéro-Club
on 20 October 1898 as a society 'to encourage aerial locomotion' by
Ernest Archdeacon
Ernest Archdeacon
Ernest Archdeacon , was a prominent French lawyer of Irish descent who was associated with pioneering aviation in France before the First World War. He made his first balloon flight at the age of 20. He commissioned a copy of the 1902 Wright No. 3 glider but had only limited success...
, Léon Serpollet, Henri de la Valette,
Jules Verne
Jules Verne
Jules Gabriel Verne was a French author who pioneered the science fiction genre. He is best known for his novels Twenty Thousand Leagues Under the Sea , A Journey to the Center of the Earth , and Around the World in Eighty Days...
and his wife,
André Michelin
André Michelin
André Jules Michelin was aFrench industrialist who, with his brother Édouard , founded the Michelin Tyre Company in 1888 in the French city of Clermont-Ferrand.In 1900, André Michelin published the first Michelin Guide, the purpose of which was to promote tourism by car,...
,
Albert de Dion
Albert de Dion
Marquis Jules Félix Philippe Albert de Dion was a pioneer of the automobile industry in France.-His life:...
,
Alberto Santos-Dumont
Alberto Santos-Dumont
Alberto Santos-Dumont , was a Brazilian early pioneer of aviation. The heir of a wealthy family of coffee producers, Santos Dumont dedicated himself to science studies in Paris, France, where he spent most of his adult life....
, Henry Deutsch de la Meurthe, and
Henry de La Vaulx
. On 20 April 1909 its name was changed to
Aéro-Club de France
.
It was a founder member of the
International Aeronautical Federation
Fédération Aéronautique Internationale
The Fédération Aéronautique Internationale is the world governing body for air sports and aeronautics and astronautics world records. Its head office is in Lausanne, Switzerland. This includes man-carrying aerospace vehicles from balloons to spacecraft, and unmanned aerial vehicles...
(FAI) in 1905.
The Aéro-Club de France originally set many of the regulations that controlled aviation in France. From its formation it also set the rules that have marked some of the 'firsts' in aviation: the first 1 km, the first helicopter flight, and has organised competitions, including:
the Prix Deutsch de la Meurthe, a challenge for dirigibles from 1901,
the Gordon Bennett Cup

Gordon Bennett Cup

There were three Gordon Bennett Cups, all established by James Gordon Bennett, Jr.*Gordon Bennett Cup in auto racing*Gordon Bennett Cup in ballooning — for a time, a separate cup was also awarded for powered air racing...


for fixed-wing aircraft in 1906,
The club published the journal
L'Aérophile
L'Aérophile
L'Aérophile was a French aviation magazine published from 1893 to 1947. It has been described as "the leading aeronautical journal of the world" around 1910.- History and contents :L'Aérophile was founded and run for many years by Georges Besançon...
from 1898 to 1947, and since 1997 publishes the magazine
Aérofrance
.
After 1945 some of its early regulatory roles were taken by other bodies. It now focusses on the promotion of aviation and certification.
Medal
The Club grants the Great Medal of the Aéro-Club de France to individuals who have made outstanding contributions to the advancement of aviation. The winners have been:
2006 - the flight test team of the Airbus A380

Airbus A380

The Airbus A380 is a double-deck, wide-body, four-engine jet airliner manufactured by the European corporation Airbus, a subsidiary of EADS. It is the largest passenger airliner in the world. Due to its size, many airports had to modify and improve facilities to accommodate it...


and the Dassault Falcon 7X

Dassault Falcon 7X

|-See also:-External links:****...



2005 - Pierre Guyoti
2004 - at the retirement of Concorde

Concorde

Aérospatiale-BAC Concorde was a turbojet-powered supersonic passenger airliner, a supersonic transport . It was a product of an Anglo-French government treaty, combining the manufacturing efforts of Aérospatiale and the British Aircraft Corporation...


, the heads of EADS

EADS

The European Aeronautic Defence and Space Company N.V. is a global pan-European aerospace and defence corporation and a leading defence and military contractor worldwide...


, British Aerospace

British Aerospace

British Aerospace plc was a UK aircraft, munitions and defence-systems manufacturer. Its head office was in the Warwick House in the Farnborough Aerospace Centre in Farnborough, Hampshire...


, Air France

Air France

Air France , stylised as AIRFRANCE, is the French flag carrier headquartered in Tremblay-en-France, , and is one of the world's largest airlines. It is a subsidiary of the Air France-KLM Group and a founding member of the SkyTeam global airline alliance...


and British Airways

British Airways

British Airways is the flag carrier airline of the United Kingdom, based in Waterside, near its main hub at London Heathrow Airport. British Airways is the largest airline in the UK based on fleet size, international flights and international destinations...



2003 - Steve Fossett

Steve Fossett

James Stephen Fossett was an American commodities trader, businessman, and adventurer. Fossett is the first person to fly solo nonstop around the world in a balloon...



2002 - the astronauts of the Andromeda mission
2000 - Jean-Pierre Haigneré, ESA astronaut
1998 - Bertrand Piccard, of the Breitling Orbiter 3 balloon
1997 - Claudie Haigneré, Shannon Lucid, Elena Kondakova
1996 - Jules Roy

Jules Roy

Jules Roy was a French writer. "Prolific and polemical" Roy, born an Algerian pied noir and sent to a Roman Catholic seminary, used his experiences as the French colony and during his service in the Royal Air Force during the Second World War to inspire a number of his words...


the author
1995 - Serge Dassault

Serge Dassault

Serge Dassault is a French entrepreneur and conservative politician. According to Forbes magazine, he was the 96th richest person in the world, with a net worth of $9.3 billion....



1994 - Henri Pescarolo

Henri Pescarolo

Henri Pescarolo is a former racing driver from France. He participated in 64 Formula One World Championship Grands Prix, debuting on 22 September 1968. He achieved one podium, and scored a total of 12 championship points...



1988 - Jean Salis, Chuck Yeager

Chuck Yeager

Charles Elwood "Chuck" Yeager is a retired major general in the United States Air Force and noted test pilot. He was the first pilot to travel faster than sound...



1986 - Patrick Baudry

Patrick Baudry

Patrick Pierre Roger Baudry , is a retired Lieutenant Colonel in the French Air Force and a former CNES astronaut...



1981 - John Young, Robert Crippen

Robert Crippen

Robert Laurel Crippen is an engineer, retired United States Navy Captain and a former NASA astronaut. He flew on four Space Shuttle missions, including three as commander...



1970 - Jim Lovell

Jim Lovell

James "Jim" Arthur Lovell, Jr., is a former NASA astronaut and a retired captain in the United States Navy, most famous as the commander of the Apollo 13 mission, which suffered a critical failure en route to the Moon but was brought back safely to Earth by the efforts of the crew and mission...


, Jack Swigert

Jack Swigert

He later became staff director of the Committee on Science and Technology of the U.S. House of Representatives.Swigert was elected as a Republican to Colorado's newly created 6th congressional district in November 1982. He defeated Democrat Steve Hogan, 98,909 votes to 56,518...


, Fred Haise

Fred Haise

Fred Wallace Haise, Jr. is an engineer and former NASA astronaut. He is one of only 24 people to have flown to the Moon. Having flown on Apollo 13, Haise was to be the sixth human to walk on the Moon, but the mission did not land due to a failure aboard the spacecraft.-Early life and...



1969 - Neil Armstrong

Neil Armstrong

Neil Alden Armstrong is an American former astronaut, test pilot, aerospace engineer, university professor, United States Naval Aviator, and the first person to set foot upon the Moon....


, Buzz Aldrin

Buzz Aldrin

Buzz Aldrin is an American mechanical engineer, retired United States Air Force pilot and astronaut who was the Lunar Module pilot on Apollo 11, the first manned lunar landing in history...


, Michael Collins

Michael Collins (astronaut)

Michael Collins is a former American astronaut and test pilot. Selected as part of the third group of fourteen astronauts in 1963, he flew in space twice. His first spaceflight was Gemini 10, in which he and command pilot John Young performed two rendezvous with different spacecraft and Collins...



1967 - Adrienne Bolland

Adrienne Bolland

Adrienne Bolland was a French test pilot and the first woman to fly over the Andes.Bolland flew across the English Channel on 25 August 1920....


, Elisabeth Boselli, Marcel Dassault

Marcel Dassault

Marcel Dassault, born Marcel Bloch was a French aircraft industrialist.-Biography:Dassault was born in Paris. After graduating from the lycée Condorcet, Breguet School and Supaero, he invented a type of aircraft propeller used by the French army during World War I and founded the Société des...


, Didier Daurat

Didier Daurat

Didier Daurat was a pioneer of French aviation.-Biography:Daurat was a fighter pilot during World War I, distinguishing himself by spotting the Paris Gun which was pounding Paris....


, Jean Lasserre, Georges Libert, Henri Potez
1963 - Jacqueline Auriol

Jacqueline Auriol

Jacqueline Auriol was a French aviatrix who set several world speed records.-Biography:...



1958 - Gabriel Voisin

Gabriel Voisin

Gabriel Voisin was an aviation pioneer and the creator of Europe's first manned, engine-powered, heavier-than-air aircraft capable of a sustained , circular, controlled flight, including take-off and landing. It was flown by Henry Farman on January 13, 1908 near Paris, France...



1938 - Henri Guillaumet

Henri Guillaumet

Henri Guillaumet was a French aviator.He was a pioneer of French aviation in the Andes, the South Atlantic and the North Atlantic. He contributed to the opening up of numerous new routes and is regarded by some as the best pilot of his age...


, Paul Tissandier

Paul Tissandier

Paul Tissandier was a French aviator.-Biography:Tissandier was the son of aviator Gaston Tissandier and nephew of Albert Tissandier, Gaston's brother....



1931 - Maurice Noguès
1930 - Jean Mermoz

Jean Mermoz

Jean Mermoz was a French aviator, viewed as a hero by many in both Argentina and his native France, where many schools bear his name...


, Maurice Bellonte
1928 - Joseph Le Brix
1927 - Charles Lindbergh

Charles Lindbergh

Charles Augustus Lindbergh was an American aviator, author, inventor, explorer, and social activist.Lindbergh, a 25-year-old U.S...



1923 - Louis Bréguet

Louis Charles Breguet

Louis Charles Breguet was a French aircraft designer and builder, one of the early aviation pioneers.- Biography :...


, Pierre-Georges Latécoère

Pierre-Georges Latécoère

Pierre-Georges Latécoère was a pioneer of aeronautics. Born in Bagnères-de-Bigorre, he studied in the École Centrale Paris and, after the First World War, started a business in aeronautics. He directed plants that made planes and opened the first airlines that operated from France to Africa and...


, Dieudonné Costes

Dieudonne Costes

Dieudonné Costes was a French aviator, well-known for long distance and record breaking flights, as well as being a fighter ace during World War I.-Life:...



1922 - Clément Ader

Clément Ader

Clément Ader was a French inventor and engineer born in Muret, Haute Garonne, and is remembered primarily for his pioneering work in aviation.- The inventor :...



1920 - Joseph Sadi-Lecointe
1912 - Roland Garros
1911 - Jules Védrines
1910 - Géo Chavez
1909 - Louis Blériot

Louis Blériot

Louis Charles Joseph Blériot was a French aviator, inventor and engineer. In 1909 he completed the first flight across a large body of water in a heavier-than-air craft, when he crossed the English Channel. For this achievement, he received a prize of £1,000...



1908 - Henri Farman, Wilbur Wright, Orville Wright
1901 - Alberto Santos-Dumont

Alberto Santos-Dumont

Alberto Santos-Dumont , was a Brazilian early pioneer of aviation. The heir of a wealthy family of coffee producers, Santos Dumont dedicated himself to science studies in Paris, France, where he spent most of his adult life....


, Henri Deutsch de la Meurthe

Henri Deutsch de la Meurthe

Henri Deutsch de la Meurthe was a successful French petroleum businessman and an avid supporter of early aviation...


, Robert Lebaudy
1900 - Henry de La Vaulx
External links