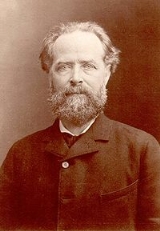 Élisée Reclus
Élisée Reclus
also known as
Jacques Élisée Reclus
, was a renowned
French
French people
The French are a nation that share a common French culture and speak the French language as a mother tongue. Historically, the French population are descended from peoples of Celtic, Latin and Germanic origin, and are today a mixture of several ethnic groups...
geographer
Geographer
A geographer is a scholar whose area of study is geography, the study of Earth's natural environment and human society.Although geographers are historically known as people who make maps, map making is actually the field of study of cartography, a subset of geography...
, writer and anarchist. He produced his 19-volume masterwork
La Nouvelle Géographie universelle, la terre et les hommes
("Universal Geography"), over a period of nearly 20 years (1875 – 1894). In 1892 he was awarded the prestigious Gold Medal of the
Paris Geographical Society
Société de Géographie
The Société de Géographie , is the world's oldest geographical society. It was founded in 1821 . Since 1878, its headquarters has been at 184 Boulevard Saint-Germain, Paris. The entrance is marked by two gigantic caryatids representing Land and Sea...
for this work, despite his having been banished from France because of his political activism.
Biography
Reclus was born at
Sainte-Foy-la-Grande
Sainte-Foy-la-Grande
Sainte-Foy-la-Grande is a commune in the Gironde department in Aquitaine in southwestern France.-Population:-Personalities:It was the birthplace of:* Paul Broca, surgeon and anthropologist* Élisée Reclus, geographer-References:*...
(
Gironde
Gironde
For the Revolutionary party, see Girondists.Gironde is a common name for the Gironde estuary, where the mouths of the Garonne and Dordogne rivers merge, and for a department in the Aquitaine region situated in southwest France.-History:...
). He was the second son of a Protestant pastor and his wife. From the family of fourteen children, several, including his brother and fellow geographer Onésime Reclus, went on to achieve renown either as men of letters, politicians or members of the learned professions.
Reclus began his education in Rhenish Prussia, and continued higher studies at the Protestant college of
Montauban
Montauban
Montauban is a commune in the Tarn-et-Garonne department in the Midi-Pyrénées region in southern France. It is the capital of the department and lies north of Toulouse....
. He completed his studies at University of Berlin, where he followed a long course of geography under
Carl Ritter
Carl Ritter
Carl Ritter was a German geographer. Along with Alexander von Humboldt, he is considered one of the founders of modern geography. From 1825 until his death, he occupied the first chair in geography at the University of Berlin.-Biography:Ritter was born in Quedlinburg, one of the six children of a...
.
Withdrawing from France because of political events of December 1851, he spent the next six years (1852 –1857) traveling and working in
Great Britain
Great Britain
Great Britain or Britain is an island situated to the northwest of Continental Europe. It is the ninth largest island in the world, and the largest European island, as well as the largest of the British Isles...
, the
United States
United States
The United States of America is a federal constitutional republic comprising fifty states and a federal district...
,
Central America
Central America
Central America is the central geographic region of the Americas. It is the southernmost, isthmian portion of the North American continent, which connects with South America on the southeast. When considered part of the unified continental model, it is considered a subcontinent...
, and
Colombia
Colombia
Colombia, officially the Republic of Colombia , is a unitary constitutional republic comprising thirty-two departments. The country is located in northwestern South America, bordered to the east by Venezuela and Brazil; to the south by Ecuador and Peru; to the north by the Caribbean Sea; to the...
. Arriving in
Louisiana
Louisiana
Louisiana is a state located in the southern region of the United States of America. Its capital is Baton Rouge and largest city is New Orleans. Louisiana is the only state in the U.S. with political subdivisions termed parishes, which are local governments equivalent to counties...
in 1853, Reclus worked for about two and a half years as a tutor to the children of Septime and Félicité Fortier at their plantation Félicité, located about 50 miles upriver from New Orleans. He recounted his passage through the
Mississippi river delta
Mississippi River Delta
The Mississippi River Delta is the modern area of land built up by alluvium deposited by the Mississippi River as it slows down and enters the Gulf of Mexico...
and impressions of antebellum New Orleans and the state in
Fragment d'un voyage á Louisiane
, published in 1855.
On his return to Paris, Reclus contributed to the
Revue des deux mondes
Revue des deux mondes
The Revue des deux Mondes is a French language monthly literary and cultural affairs magazine that has been published in Paris since 1829....
, the
Tour du monde
and other periodicals, a large number of articles embodying the results of his geographical work. Among other works of this period was the short book
Histoire d'un ruisseau
, in which he traced the development of a great river from source to mouth. From 1867 – 1868 he published
La Terre; description des phénomènes de la vie du globe
in two volumes.
During the 1870
siege of Paris
Siege of Paris
The Siege of Paris, lasting from September 19, 1870 – January 28, 1871, and the consequent capture of the city by Prussian forces led to French defeat in the Franco-Prussian War and the establishment of the German Empire as well as the Paris Commune....
, Reclus shared in the aerostatic operations conducted by Félix Nadar, and also served in the
National Guard
National Guard (France)
The National Guard was the name given at the time of the French Revolution to the militias formed in each city, in imitation of the National Guard created in Paris. It was a military force separate from the regular army...
. As a member of the Association Nationale des Travailleurs, he published a hostile manifesto against the government of
Versailles
Versailles
Versailles , a city renowned for its château, the Palace of Versailles, was the de facto capital of the kingdom of France for over a century, from 1682 to 1789. It is now a wealthy suburb of Paris and remains an important administrative and judicial centre...
in support of the
Paris Commune
Paris Commune
The Paris Commune was a government that briefly ruled Paris from March 18 to May 28, 1871. It existed before the split between anarchists and Marxists had taken place, and it is hailed by both groups as the first assumption of power by the working class during the Industrial Revolution...
of 1871 in the
Cri du Peuple
.
Continuing to serve in the National Guard, now in open revolt, Reclus was taken prisoner on April 5, and on November 16 was sentenced to deportation for life. Because of intervention by supporters from England, the sentence was commuted in January 1872 to perpetual banishment from France.
After a short visit to
Italy
Italy
Italy , officially the Italian Republic languages]] under the European Charter for Regional or Minority Languages. In each of these, Italy's official name is as follows:;;;;;;;;), is a unitary parliamentary republic in South-Central Europe. To the north it borders France, Switzerland, Austria and...
, Reclus settled at Clarens,
Switzerland
Switzerland
Switzerland name of one of the Swiss cantons. ; ; ; or ), in its full name the Swiss Confederation , is a federal republic consisting of 26 cantons, with Bern as the seat of the federal authorities. The country is situated in Western Europe,Or Central Europe depending on the definition....
, where he resumed his literary labours and produced
Histoire d'une montagne
, a companion to
Histoire d'un ruisseau
. There he wrote nearly the whole of his work,
La Nouvelle Géographie universelle, la terre et les hommes
, "an examination of every continent and country in terms of the effects that geographic features like rivers and mountains had on human populations—and vice versa," This compilation was profusely illustrated with maps, plans, and engravings. It was awarded the gold medal of the Paris Geographical Society in 1892. An English edition appeared simultaneously, also in 19 volumes, the first four by E. G. Ravenstein, the rest by A. H. Keane. Reclus's writings were characterized by extreme accuracy and brilliant exposition, which gave them permanent literary and scientific value. According to
Kirkpatrick Sale
Kirkpatrick Sale
Kirkpatrick Sale is an independent scholar and author who has written prolifically about political decentralism, environmentalism, luddism and technology...
:
In 1882, Reclus initiated the
Anti-Marriage
Criticism of marriage
Criticisms of marriage are proposed reasons arguing against the practical or moral value of the institution of matrimony or particular forms of matrimony...
Movement, in accordance with which he allowed his two daughters to marry without any civil or religious ceremony. This action caused embarrassment to many of his well-wishers. The French government initiated prosecution from the High Court of
Lyon
Lyon
Lyon , is a city in east-central France in the Rhône-Alpes region, situated between Paris and Marseille. Lyon is located at from Paris, from Marseille, from Geneva, from Turin, and from Barcelona. The residents of the city are called Lyonnais....
against the anarchists and members of the International Association, of which Reclus and the influential
Peter Kropotkin
Peter Kropotkin
Prince Pyotr Alexeyevich Kropotkin was a Russian zoologist, evolutionary theorist, philosopher, economist, geographer, author and one of the world's foremost anarcho-communists. Kropotkin advocated a communist society free from central government and based on voluntary associations between...
were designated the two chief organizers. Kropotkin was arrested and condemned to five years' imprisonment, but Reclus escaped punishment as he remained in Switzerland.
In 1894, Reclus was appointed chair of comparative geography at the University of Brussels. He contributed several important articles and essays to French, German and English scientific journals.
Shortly before his death, Reclus completed
L'Homme et la terre
, in which he added to his previous greater works by considering humanity's development relative to its geographical environment.
Reclus died at
Torhout
Torhout
Torhout is a municipality located in the Belgian province of West Flanders. The municipality only comprises the city of Torhout proper. On January 1, 2008 Torhout had a total population of 19,755...
, near
Bruges
Bruges
Bruges is the capital and largest city of the province of West Flanders in the Flemish Region of Belgium. It is located in the northwest of the country....
, Belgium.
Legacy
Reclus was admired by many prominent 19th century thinkers, including Alfred Russell Wallace,
George Perkins Marsh
George Perkins Marsh
George Perkins Marsh , an American diplomat and philologist, is considered by some to be America's first environmentalist, although "conservationist" would be more accurate...
and
Patrick Geddes
Patrick Geddes
Sir Patrick Geddes was a Scottish biologist, sociologist, philanthropist and pioneering town planner. He is known for his innovative thinking in the fields of urban planning and education....
,
Henry Stephens Salt
Henry Stephens Salt
Henry Stephens Salt was an English writer and campaigner for social reform in the fields of prisons, schools, economic institutions, and the treatment of animals. He was a noted ethical vegetarian, anti-vivisectionist, socialist, and pacifist, and was well known as a literary critic, biographer,...
, and
Octave Mirbeau
Octave Mirbeau
Octave Mirbeau was a French journalist, art critic, travel writer, pamphleteer, novelist, and playwright, who achieved celebrity in Europe and great success among the public, while still appealing to the literary and artistic avant-garde...
.
James Joyce
James Joyce
James Augustine Aloysius Joyce was an Irish novelist and poet, considered to be one of the most influential writers in the modernist avant-garde of the early 20th century...
was influenced by Reclus' book
La civilisation et les grands fleuves historiques
.
Reclus advocated nature conservation and opposed meat-eating and cruelty to animals. He was a vegetarian. As a result, his ideas are seen by some historians as anticipating the modern
social ecology
Social ecology
Social ecology is a philosophy developed by Murray Bookchin in the 1960s.It holds that present ecological problems are rooted in deep-seated social problems, particularly in dominatory hierarchical political and social systems. These have resulted in an uncritical acceptance of an overly...
and
animal rights
Animal rights
Animal rights, also known as animal liberation, is the idea that the most basic interests of non-human animals should be afforded the same consideration as the similar interests of human beings...
movements.
Articles
"The Progress of Mankind" (Contemporary Review, 1896)
"Attila de Gerando" (Revue Géographie, 1898)
"A Great Globe" (Geograph. Journ., 1898)
"L'Extrême-Orient" (Bulletin Antwerp Géographie Sociétie, 1898), a study of the political geography of the Far East and its possible changes
"La Perse" (Bulletin Sociétie Neuchateloise, 1899)
"La Phénice et les Phéniciens" (ibid., 1900)
"La Chine et la diplomatie européenne" (L'Humanité nouvelle series, 1900)
"L'Enseignement de la géographie" (Institute Géographie de Bruxelles, No 5, 1901)
Further reading
Federico Ferretti, "The correspondence between Élisée Reclus and Pëtr Kropotkin as a source for the history of geography", Journal of Historical Geography, 2010.
Philippe Pelletier, Elisée Reclus, géographie et anarchie, Paris, Editions du monde Libertaire, 2009.
The World That Never Was: A True Story of Dreamers, Schemers, Anarchists and Secret Police by Alex Butterworth (Pantheon Books, 2010)
External links