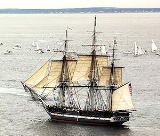 USS Constitution
Posts 1 - 2 of 2

tincan
Where were the canon balls stored on deck before a battle
replied to: tincan

USSUSFrigate
Replied to: Where were the canon balls stored on deck before...
The frigates had one to several shot lockers for stowing the various rounds available; bar, chain, solid, etc. Around the guns near to the hatchways were "trays" which were carved out to accommodate the balls, but the lockers held the bulk of the various projectiles. Powder monkeys also ran throughout the ship during battle to be sure the guns had provisions for battle.

Ed. Zimmerman, Jr.
USS UNITED STATES Foundation
Senior sister to USS Constitution.